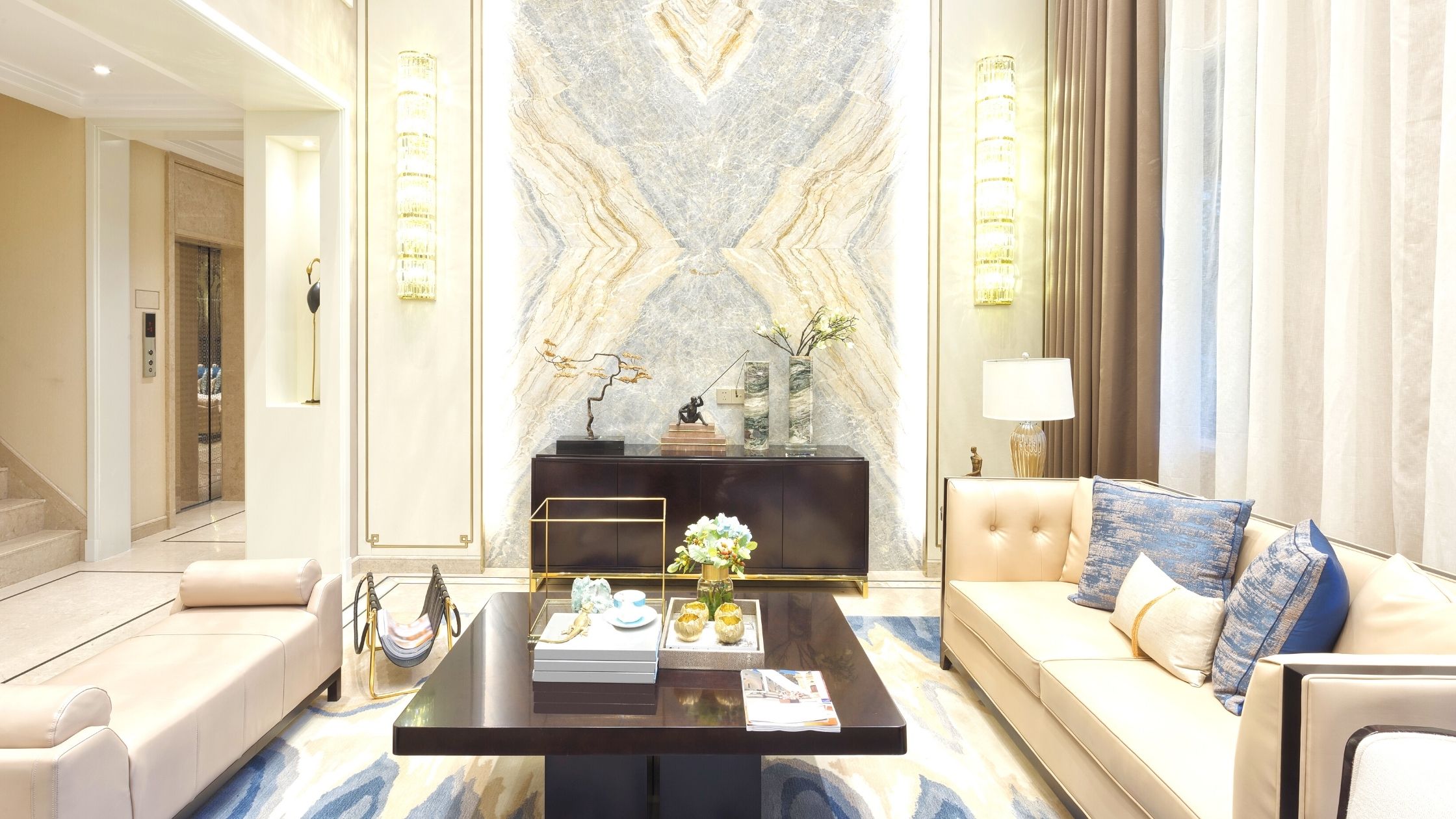 Often times, homeowners spend so much time designing the kitchen and bathroom areas that other rooms in the home are forced to take a backseat. The living room is one of these spaces and although it's exciting to create a functional and beautiful kitchen and a spa-like bathroom, designing a cozy living room should also be high up on your list of to-dos. After all, it's one of the places you'll go to sit back and relax for the evening, entertain guests or enjoy movie night with the family. This is why it must be designed with optimal comfort in mind. We've compiled a checklist of some of the top elements that should be included in today's living rooms, so that you're able to enjoy this room of the home to the fullest.
Here's our ultimate living room checklist for the modern home.
Clean Lines & Minimalist Features
Today's builders and designers are busy creating homes that meet our contemporary desires. This means clean lines and tall ceilings to provide a minimalistic approach to the space. Keeping large areas of the home more neutral, while accenting the space with smaller pops of color and dramatic fixtures helps create the modern look homeowners are seeking. We recommend neutral paint colors and furniture in this space, accented by artwork, plant life and lighting to showcase this area's cozy potential.
Illuminate the Space Naturally
Another big trend is natural lighting in a home, made possible by large windows and sliding glass doors. Letting the light shine brightly into the living room will allow this space to emanate bright, cheery vibes, making it warm and inviting. Here in Southwest Florida, we prefer the indoor/outdoor design, allowing the living area to flow seamlessly into the outdoor living space, so that you're able to enjoy the paradise that awaits outside.
Incorporate Sustainable Materials
Plenty of industries are embracing more sustainable trends. Recycled materials help to preserve our environment, limiting waste, while offering homeowners a way to do their part to help out too. There are many sustainable elements you can add to your living space, including:
Furniture made with recycled materials (cork, bottles, bamboo, etc.)
Repurposed fixtures (barn doors, barn floors, antique furniture pieces)
Wood, rattan and stone décor
The living room is the perfect place to display these sustainable products, adding a modern, yet one-of-a-kind feel to the space.
Add a Pop of Dark Color
Black, navy and emerald green hues are having a major moment, both inside and outside of the home. If you're looking to jump on the bandwagon with this trend, we advise sticking strictly to accent pieces, not entire walls. Dark trimmed furniture pieces, bases on lamps and other small areas can add just the right amount of interest without being too overwhelming, creating a cozy ambiance in this particular area of the home.
The Modern Living Room
We can rely on our homes to deliver the level of comfort and security we need, helping us to unwind from the day and providing us with a place to rest and reset. Whether you're cozying up on the couch with a good book and a hot cup of tea or sitting back with your family, watching your favorite show, comfort reigns supreme. Create the ultimate look and feel in your home by incorporating some of these helpful tips to make your space cozy, timeless and perfectly catered to your needs.
Frey & Son Homes can help you build your home in paradise! Call (239) 495-8200 or visit www.freyandson.com to get started.