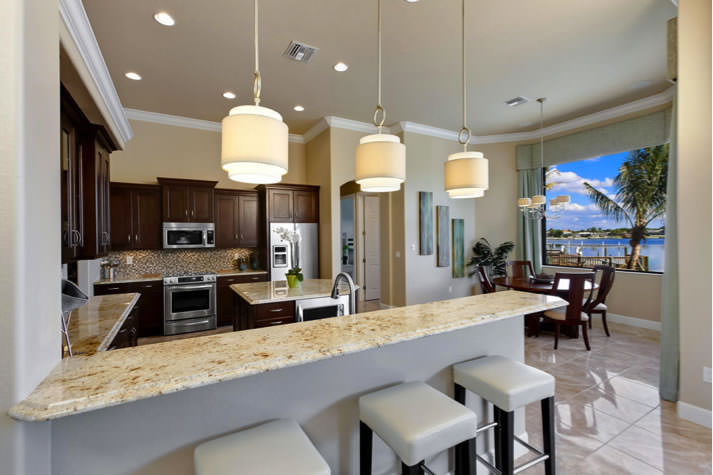 From the floor to the ceiling, your home's style is evident. That's why choosing the perfect home selections to fit your home is crucial in the overall building or remodeling process. The interior of your home has its own unique flow, and should flow seamlessly from one room to another. Everything from living room paint color to the powder bath faucet needs to be carefully chosen in order to construct the best possible living space for you and your family. Let our experts help you with these intricate details. Here is our ultimate guide to home selections.
Why Home Selections are Important
These details can make or break the overall style of your home, so it's important to construct a plan for choosing the best home finishes for your space. Home finishes help to accentuate the design factor of the home, bringing your home's style together in a nice, neat package. There are many choices to be made in the area of home selections, including:
Flooring styles

Counter tops

Paint colors

Finishes

Fixtures
By factoring in all of these important choices, you'll be able to work with your builder to bring your vision to life. Here are some of our top tips for ensuring a smooth process.
Decide on a Home Style
First and foremost, what do you want your home to look like? Figuring out your home's style can help you find the best selections to meet that style. For instance, if you're going for a contemporary look, you may choose clean lines and light, neutral colors, keeping it modern and simplistic. You'll need to choose selections that work with the space and also your vision. If you have a smaller kitchen, white shaker cabinets, paired with light subway tile and a detailed granite counter top can help make the space appear bigger. Look at your space and try to find selections that work within the room.
Work Within Your Budget
It is imperative to work with your builder on determining the budget that works for you. Sit down and figure out how much you want to allot and where. You may not feel as passionate about bathroom fixtures as you do flooring, so allotting more money toward flooring may be your best bet. What is important to you? Your builder will help you with understanding materials and installation costs, so that you can come up with a plan of action. Including your builder in this step is critical, especially if you change your mind. Changes can affect the budget immensely, even if they're small. Be in constant, open communication with your builder for maximum success.
Do Some Research
Speak with your builder about their go-to appliances, fixtures and flooring options and try to narrow down your home selection search from there. If possible, walk through other homes that your builder has built to get a feel for overall flow and design. This may help you to better decide on your own home's style. Get a game plan together, complete with a realistic timeline to ensure that all of your home selections are chosen in a timely manner. By getting organized at the beginning, you'll be able to help decrease delays in the building process.
Your Home's Unique Style
Your home is yours. No one else has one just like it, so it's important to choose home selections that work with your style, budget and what you want in a home. By taking some time and working with your builder, you'll be able to ensure you get the home you've always wanted, from the counter tops to the light fixtures and everything in between.
The professionals at Frey & Son Homes have been building homes for the residents of Southwest Florida since 1972. Call (239) 495-8200 or visit www.freyandson.com to get started today!