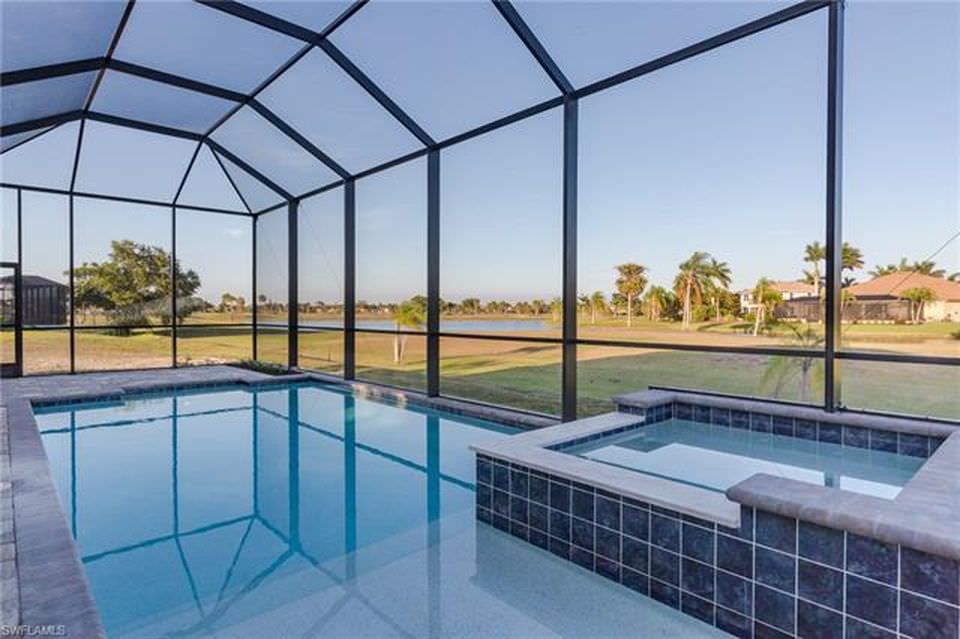 Cape Coral, Florida, August 16th, 2018– Southwest Florida home builder, Frey & Son Homes, announces the completion of another Cape Coral home, complete with its signature open-span lanai. Frey & Son Homes has been building homes to last generations for over 46 years, and has built over 5000 homes in the area. With precise attention to detail, superior craftsmanship and utilizing only the finest materials, Frey & Son is a trusted source in the industry.
Located at 11750 Royal Tee Circle in Cape Coral, this St. Lucia model boasts three bedrooms, three baths and 3680 square feet of living space. Featuring high ceilings, wrap-around panoramic windows in the morning room, designer pool/spa, beautiful wood cabinetry and granite counter tops throughout, this home impresses. Perhaps most impressive is Frey & Son's signature open-span lanai, which runs along the back of the home. With no columns, this lanai provides breathtaking views of this stunning golf course home. Other notable features include Whirlpool stainless steel appliances, porcelain tile flooring, three-car garage and low-e thermally insulated, double-pane windows.
Frey & Son (www.freyandson.com) was founded on Sanibel Island in 1972, and has grown to become one of the most trusted home builders in the Southwest Florida area. With excellent customer service, expert building techniques and using only the best materials, suited for our sub-tropical climate, Frey & Son has proven to build homes to last generations.
President, Barry Frey speaks about this beautiful home and its signature lanai.
"We build our homes to capture the very best that Southwest Florida has to offer. Incorporating open-span lanais in our homes is our way of giving homeowners the chance to enjoy every aspect of their property, without having bulky columns in the way of their perfect views. This home is exquisite and surely will not last long," he says.
About Frey & Son Homes
Founded in 1972 by Doris and Bill Frey, Sanibel Homes was launched on Sanibel Island. Joined by son Barry in 1985, Frey & Son Homes was born, and since then, the team has been building homes for clients all over Southwest Florida, from Marco Island to Cape Coral. Earning rankings, such as America's Best Builder and being honored as one of the nation's 50 leading luxury builders, Frey & Son Homes continues to impress clients, making them a staple in the Southwest Florida home building industry.
To learn more about Frey & Son Homes, please call (239) 495-8200, email info@freyandson.com or visit www.freyandson.com.