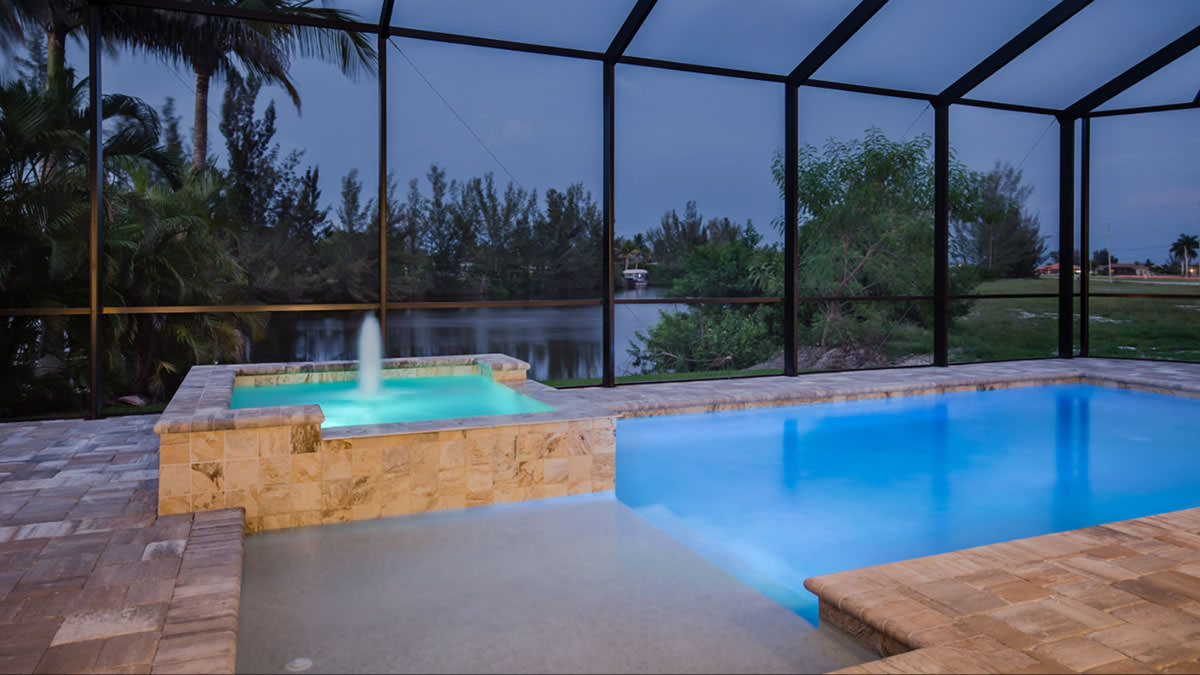 There's seemingly nothing more serene than enjoying the outdoors. The pure sound of nature, paired with the unmatched views of our Southwest Florida landscape is just perfection. It's no wonder why more homeowners are choosing to upgrade their backyard areas with all the bells and whistles. We live in a climate that's perfect for enjoying life poolside and living that life is more enjoyable with some enhancements. When it comes to pool upgrades, we're here to let you in on some secrets on how to create a perfect outdoor oasis. Read on…
Water Features & Fire Pits
One of the most calming sounds is listening to the tranquility of running water. The calming effects of water features have homeowners incorporating these into their pool areas to add a special touch to their outdoor living spaces. There are a variety of water feature options, including:
Fountains

Water gardens

Waterfalls

Ponds

Water ledges
Some homeowners have just one feature, while some incorporate a couple of different features to add depth and a serene appeal to the space. Fire pits are also popular among homeowners who want to have that perfect outdoor oasis. Creating a calming atmosphere at night, fire pits give you and your guests a chance to wind down and on those chilly nights, a chance to warm up and enjoy the perfect evening in paradise.
Infinity Edges
Infinity edge pools are a hot commodity in Southwest Florida these days. These specialized pools create an edge-free look, which makes the pool space appear to have no boundaries, effortlessly flowing off into the picturesque Southwest Florida sunset. Breathtaking and spectacular, infinity edge pools evoke a pure sense of luxury and class. For homeowners who have expansive bay or oceanfront views, infinity edge pools are a must.
Tile & Decking
Add a sense of classic style to your outdoor living space by choosing tile to match your sophisticated tastes. Glass tile is especially popular in these outdoor areas as it adds a luxurious feel to the space. Some homeowners even opt for a tile with a bit of sparkle, so that the sun will reflect and create a rainbow reflection around the pool. You can definitely get creative in this area of the home, so don't be afraid to try something different.
Decking adds a lot of extra style to your pool area. Instead of just plain cement, many homeowners choose a stained decking to contrast against the light tile of the space. Natural stone is a very popular option as well, as it blends nicely into this outdoor living area and emanates style and sophistication.
Your Outdoor Oasis
When it comes to your outdoor living area, a couple of small upgrades can go a long way. Remember, this is your space for relaxation and serenity. Choose designs and upgrades that not only complement the space, but add that sense of tranquility. You'll most likely be spending a good bit of time outdoors, enjoying our beautiful weather all year-round, taking in the unmatched sunsets and entertaining guests. You deserve a space that's designed especially for you. Relax, enjoy and take in the sights and sounds of nature in your perfect outdoor oasis.
The team at Frey & Son Homes has been helping residents of Southwest Florida build homes to last generations for over 46 years. Call (239) 495-8200 or visit www.freyandson.com to learn more today!