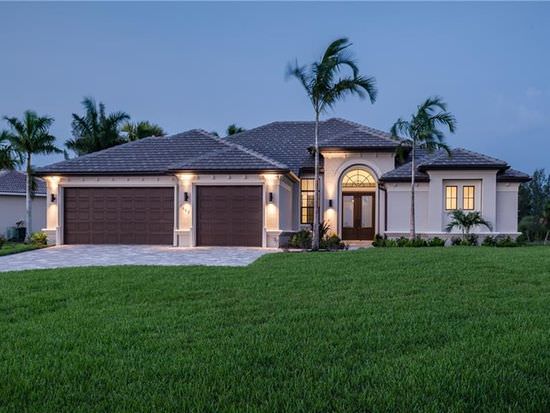 Cape Coral, Florida, July 17th, 2018– Southwest Florida home builder, Frey & Son Homes announces that its newest model in Cape Coral is now available for immediate occupancy. For over 46 years, Frey & Son has been building stunning homes across Southwest Florida that are designed with quality materials, superior craftsmanship and precise attention to detail.
Located at 1603 NW 42nd Place in Cape Coral, this Key Largo II model offers three bedrooms, two baths and 2396 square feet of living space. Other notable features of this home include a gourmet kitchen, 10-foot sliding glass doors, luxury pool and spa, study and a three-car garage. A wall of glass which runs along the rear of the living area creates a perfect view of the direct access canal (no bridges), just off of Gulfstream Parkway. This corner lot provides a large front yard and a picturesque setting from the street, and is priced at $579,900.
Frey & Son Homes (www.freyandson.com) got its start on Sanibel Island in 1972. Throughout the years, Frey & Son has built over 4500 homes in Collier and Lee counties, making them one of the most trusted home builders in all of Southwest Florida and earning them accolades, such as America's Best Builder and one of the nation's 50 leading luxury builders.
President, Barry Frey speaks about this newly available Cape Coral home.
"This home not only has high-end finishes and features, it's also in a beautiful location with stunning water views that simply can't be beat. The home has quick access to Matlacha Pass. We're finding that area extremely popular for avid boaters who want quick access to open waters. We're looking forward to someone making this fantastic house a home," he says.
About Frey & Son Homes
Founded in 1972 by Doris and Bill Frey, Sanibel Homes was launched on Sanibel Island. Joined by son Barry in 1985, Frey & Son Homes was born, and since then, the team has been building homes for clients all over Southwest Florida, from Marco Island to Cape Coral. Earning rankings, such as America's Best Builder and being honored as one of the nation's 50 leading luxury builders, Frey & Son Homes continues to impress clients, making them a staple in the Southwest Florida home building industry.
To learn more about Frey & Son Homes, please call (239) 495-8200, email info@freyandson.com or visit www.freyandson.com.