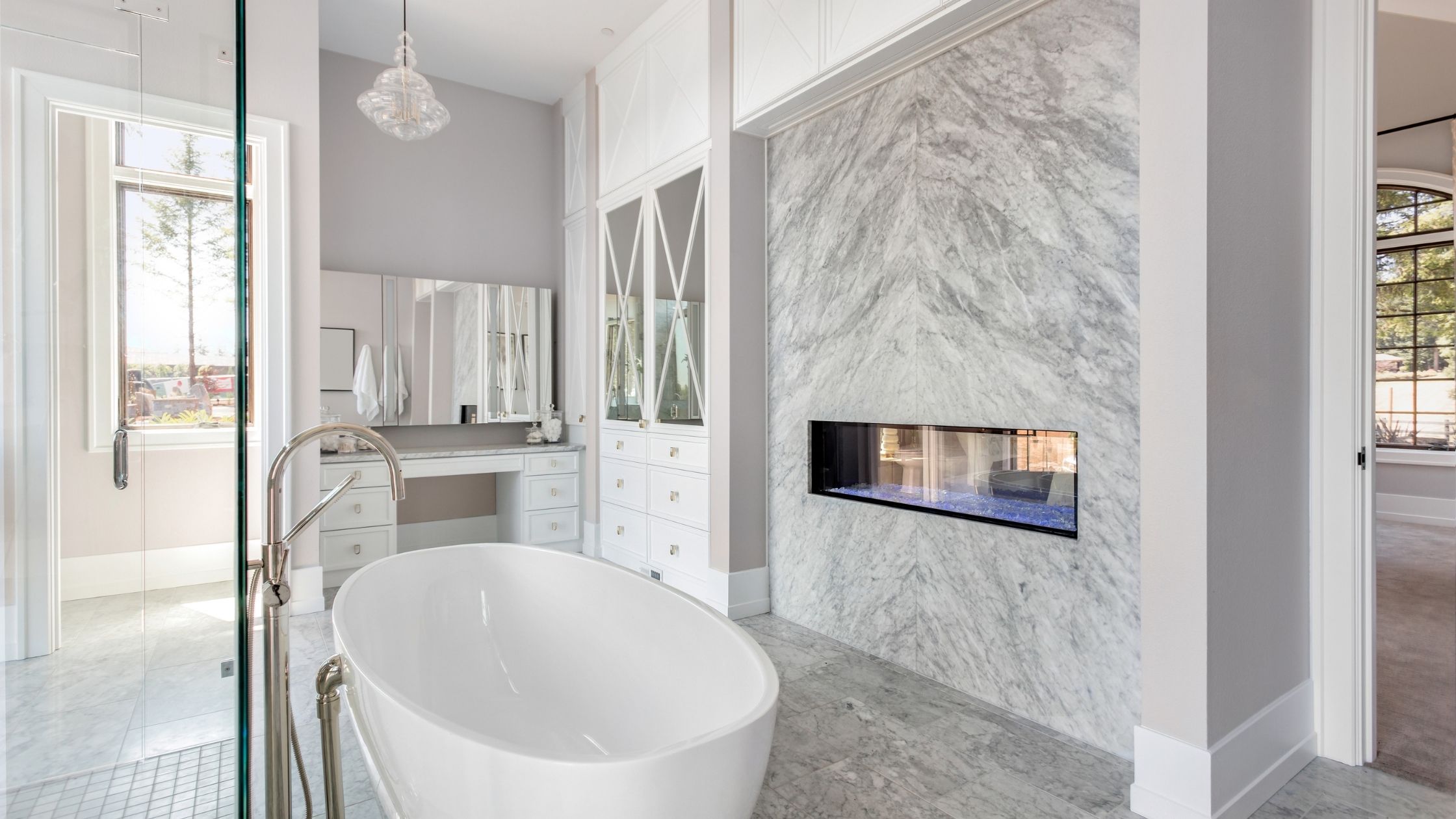 The bathroom has evolved into so much more than just a room to take a shower in, and as we seek to revitalize our homes to keep up with emerging design trends, one thing is certain…the bathroom is ready for a makeover. Whether you're looking for your next home renovation project or you're ready to build a brand new custom home, you won't want to forget about your master bathroom. And when it comes to maximizing its potential, we have some tips for you. From tubs to showers, counters to vanities, here are the top bathroom design trends for your home.
Space-Savers
It doesn't matter how spacious your bathroom is, if it feels cramped, it's not comfortable, which is why more builders and designers are incorporating space-saving elements to make this area open and airy. Traditional vanities are being replaced with floating vanities to not only save space, but also make it easier to keep your bathroom clean. And soaking tubs are also being added, along with separate shower stalls to really give the bathroom a spa-like feel without encroaching on the space. Have a long soak in the tub or a relaxing shower without feeling like you're in a combination unit, adding a more tranquil feel to the space. Smart toilets are also being utilized more in bathroom areas, not only desirable due to their energy efficiency, but also because of their smaller, more modern shape.
Lavish Accents
The bathroom has come a long way from practical. Nowadays, we rely on this area of the home to provide us with an escape into our own private oasis, accentuated with luxurious elements and serenity . Perhaps one of the biggest trends we are seeing right now are quartz countertops being utilized more. Extremely durable, not to mention exceptionally sophisticated and beautiful, quartz counters not only give the bathroom an air of refinement, you also won't have to worry about damaging them, and maintenance is a breeze.
Bathroom Styles
There are definite trends when it comes to bathroom styles, and depending on the overall style of your home, it's recommended that your bathroom follows suit. Popular styles for this area of the home include:
Coastal contemporary

Modern farmhouse

Beach house

Industrial eclectic

Rustic

Mediterranean
If your home emanates more of a contemporary vibe, we recommend sticking to this style in your bathroom and incorporating some relaxing spa elements to really make the most out of this area. If your home is more eclectic, you may want to add in artsy elements, like artwork and sculptures, in addition to exposed piping to really enhance your industrial look. No matter which type of home you are designing, there are ways to make your bathroom fit into the particular style to blend in seamlessly with the rest of the home.
Ideal Bathroom Design Trends
Everyone's home is different, but many of us have the same end goal…to make it as cozy and functional as possible. If your bathroom has been waiting for its upgrade for quite some time, it may be the perfect time to welcome it into the 21st century with a modern revamp. Remember, keep comfort and class in mind, and you'll be on your way to designing the ideal bathroom for your home.
The team at Frey & Son Homes has been building spectacular homes across Southwest Florida for over 49 years. Call (239) 495-8200 or visit www.freyandson.com to get started!