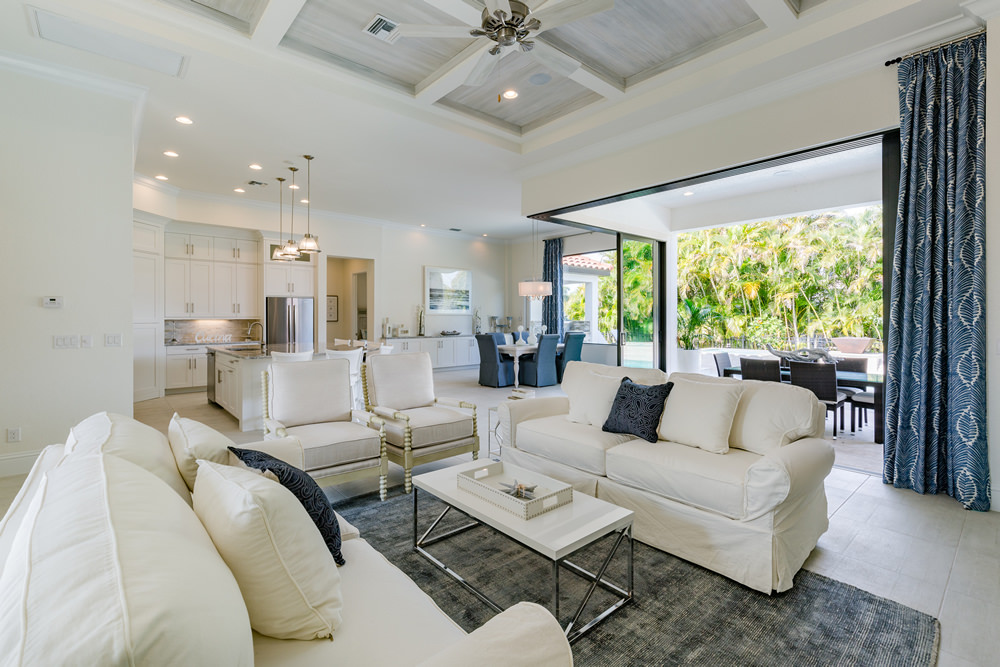 Cape Coral, Florida, March 30th, 2021– Southwest Florida home builder, Frey & Son Homes, announces that it has begun construction on a brand new model home center, located in Cape Coral earlier this month. The home builder has been building homes in the area and across Southwest Florida for over 49 years and utilizes modern design aspects, the latest techniques in building innovation and impeccable attention to detail in all of their projects.
The Cape Coral model home center will consist of two homes, a Palm Beach 2 model, located at 2579 Surfside Boulevard and a Key Colony model, which will be located at 2575 Surfside Boulevard. The Palm Beach 2 home will feature three bedrooms, three bathrooms and 2,696 sq. ft. of air conditioned living area. A study, outdoor living space with a designer pool and spa, outdoor kitchen and more, plus a spacious kitchen with premium selections will be included in this home, in addition to a three-car garage and luxury finishes throughout. High ceilings and clean lines will accentuate this home, as well as walls of glass along the rear of the home to take in breath-taking views. The Key Colony home will also feature three bedrooms and three bathrooms with 2,152 sq. ft. of air conditioned living space. It will also include a beautiful great room, study and spacious garage, plus a stunning outdoor living area, complete with a pool and outdoor kitchen. Both homes are expected to be completed by the end of this year.
Well-known and respected in the area, Frey & Son Homes (www.freyandson.com) has been building homes from Cape Coral to Marco Island for decades. As the need for more homes arises in the busy Cape Coral area, the team at Frey & Son is ready to accommodate these new residents. Barry Frey, President of Frey & Son Homes, speaks about the new model center.
"We're really looking forward to unveiling our model center later this year, as this gives us a chance to really showcase what our team is capable of when it comes to building the ultimate homes in our Southwest Florida paradise. It's exciting to see the Cape Coral area continuing to grow and thrive, and we're ready to help as many potential homeowners as possible in creating their ideal home," he explains.
About Frey & Son Homes
Founded in 1972 by Doris and Bill Frey, Sanibel Homes was launched on Sanibel Island. Joined by son Barry in 1985, Frey & Son Homes was born, and since then, the team has been building homes for clients all over Southwest Florida, from Marco Island to Cape Coral. Earning rankings, such as America's Best Builder and being honored as one of the nation's 50 leading luxury builders, Frey & Son Homes continues to impress clients, making them a staple in the Southwest Florida home building industry.
To learn more about Frey & Son Homes, please call (239) 495-8200, email info@freyandson.com or visit www.freyandson.com.