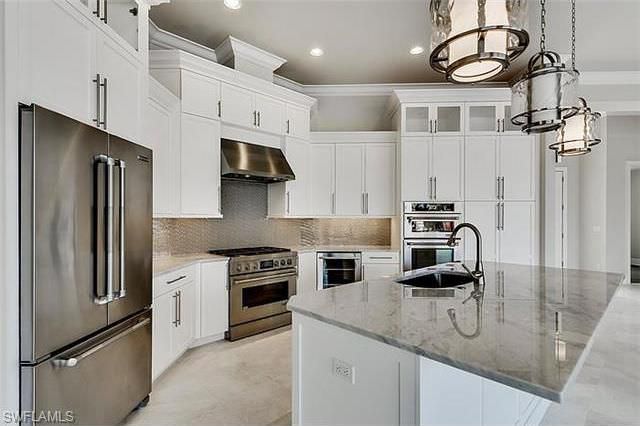 Golden Gate Estates, Florida, September 15th, 2021– Respected home builder, Frey & Son Homes announces that it has broken ground on three new inventory homes in Golden Gate Estates. With over 49 years of experience in the home building industry, Frey & Son has built some of the most impressive homes from Sanibel to Marco Island and everywhere in between. The team utilizes state-of-the-art technology, modern designs and unparalleled professionalism in every one of its projects.
Located at 543 27th St. SW, this three bedroom, three bathroom St. Lucia model will feature a beautiful open floorplan with a stunning master suite and large great room. A study, spacious garage and gorgeous outdoor living area, as well as high ceilings, designer features and luxury radiating throughout will make this home a must-see. The second inventory home is located at 4199 11th Ave. SW, and is also a St. Lucia model. This home will include four bedrooms, three bathrooms and plenty of space for guests. You'll also find a large kitchen with an oversized island, granite countertops and stainless steel appliances, as well as a welcoming outdoor oasis, complete with a designer pool in this fabulous home. Lastly, the Marsala model, which is located at 5042 Cherry Wood Dr. boasts four bedrooms, three baths and a dramatic open concept design. An expansive master suite, as well as a spacious lanai provide the ultimate in Southwest Florida living. All homes are currently under construction, and projected completion dates are slated for early next year.
Frey & Son Homes (www.freyandson.com) builds a fine selection of Southwest Florida homes spanning across Lee and Collier counties. The builder not only utilizes its expertise in current market trends, but also the latest home designs, building techniques and technology to create some of the most desirable spaces in paradise.
Barry Frey, President of Frey & Son Homes, speaks about the team's emergence in the Golden Gate Estates market.
"There is so much space in the Estates that it just makes sense to expand into this area. While we're not new to Naples, we're certainly looking forward to showcasing our home designs in this hot market. We are looking forward to completing these homes next year, and we continue to help potential buyers find the perfect homes in Southwest Florida" he says.
About Frey & Son Homes
Founded in 1972 by Doris and Bill Frey, Sanibel Homes was launched on Sanibel Island. Joined by son Barry in 1985, Frey & Son Homes was born, and since then, the team has been building homes for clients all over Southwest Florida, from Marco Island to Cape Coral. Earning rankings, such as America's Best Builder and being honored as one of the nation's 50 leading luxury builders, Frey & Son Homes continues to impress clients, making them a staple in the Southwest Florida home building industry.
To learn more about Frey & Son Homes, please call (239) 495-8200, email info@freyandson.com or visit www.freyandson.com.