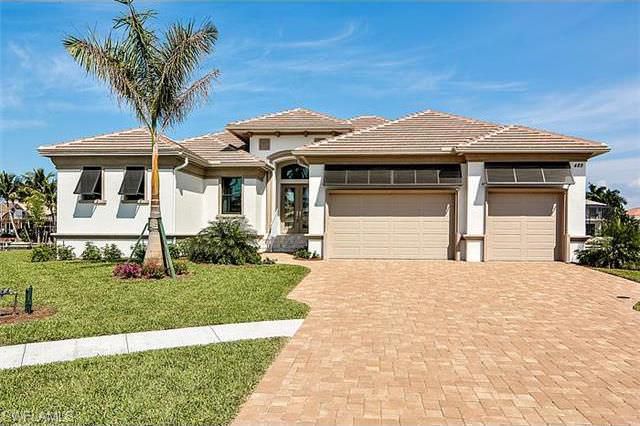 Cape Coral, Florida, December 15th, 2021—Frey & Son Homes, a popular home builder in Cape Coral and throughout all of Southwest Florida, announces that more Cape Coral inventory homes are on the way in the new year. The home builder has a celebrated history in the area, spanning over 49 years, showcasing homes that emanate contemporary designs, appealing to the discerning Southwest Florida home buyer.
Located at 4406 NW 40th St., this Key Biscayne 2 model will feature three bedrooms, three bathrooms and beautiful views of a large saltwater basin. This Gulf access lot will also boast a beautiful designer pool and spa, three-car garage, as well as clean lines and modern luxury features throughout. This home is expected to be completed in early summer 2022. Another exquisite home making its debut next year is located at 3253 NW 21st Terrace. This St. Lucia model is one of Frey & Son Homes' most popular designs, and it will feature three bedrooms, three bathrooms, and large 10' sliders throughout. You can expect to find high-end details inside and out, in addition to an open floorplan, sophisticated materials and a more refined design. The home also features expansive views of the oversized Alligator Slough Canal. These homes join several others in the Cape Coral area, further enhancing Frey & Son's Lee County inventory.
The Frey & Son (www.freyandson.com) name is well-respected in the industry. Utilizing top building techniques, while providing unmatched customer service, the Frey team has built over 5,000 homes across Southwest Florida. Signature features, like the iconic Frey & Son open span lanai with no columns, high ceilings, and panoramic windows set this prestigious home builder apart from the competition.
Barry Frey, President of Frey & Son Homes, speaks about the inventory of homes in Lee County, and how the team continues to work to meet the ever-growing demand.
"Cape Coral and Lee County in general are continuing to be hot spots for seasonal and full-time residents alike. We are steadfast in our efforts to build more quality homes in the Lee County market, as new and resale home inventory levels are at historic lows," he says.
About Frey & Son Homes
Founded in 1972 by Doris and Bill Frey, Sanibel Homes was launched on Sanibel Island. Joined by son Barry in 1985, Frey & Son Homes was born, and since then, the team has been building homes for clients all over Southwest Florida, from Marco Island to Cape Coral. Earning rankings, such as America's Best Builder and being honored as one of the nation's 50 leading luxury builders, Frey & Son Homes continues to impress clients, making them a staple in the Southwest Florida home building industry.
To learn more about Frey & Son Homes, please call (239) 495-8200, email info@freyandson.com or visit www.freyandson.com.