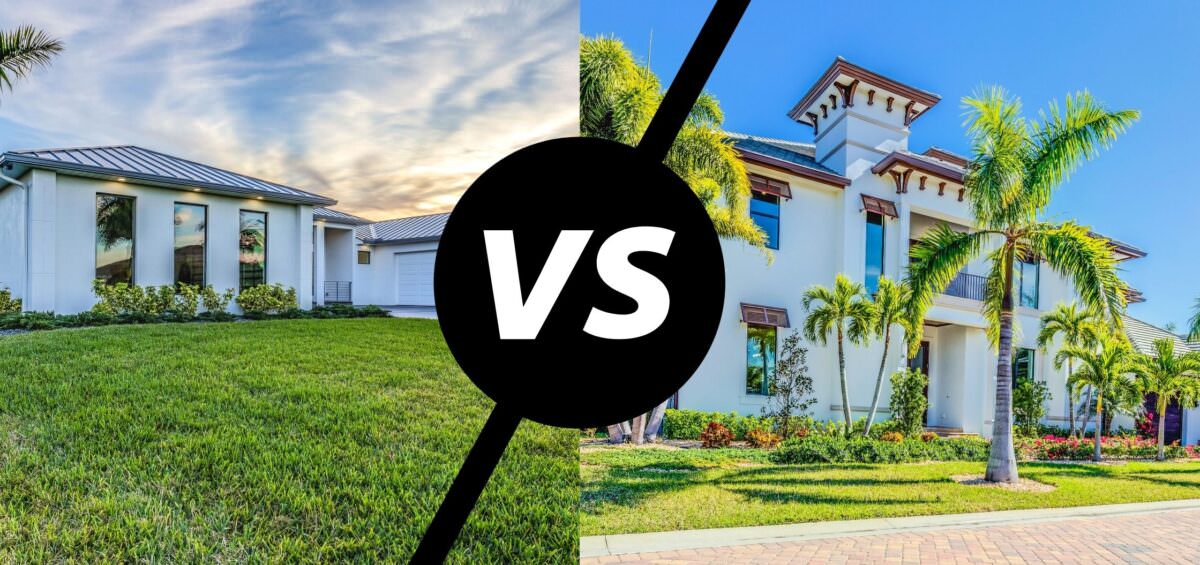 Building or buying a home means making some key decisions on certain aspects of the home. Whether it's the floorplan, the layout or the type of home, choosing what works for you can mean the difference between loving your new home and being disappointed. Here in Southwest Florida, you'll see a lot of different types of homes and depending on the neighborhood, single-story homes may seem to be the way to go; however, this has been changing in recent years as more and more builders are seeking ways to maximize spaces to new levels. More two-story options are popping up from Cape Coral to Marco Island and all areas in between, which has many buyers wondering what's the better option. When it comes to single-story versus two-story homes, which is right for you? Let our pros help you decide what type of home your next build or purchase should be, so that you're able to get the most out of your investment.
Advantages of Single-Story Homes
Single-story homes are perfect for those wanting every aspect of their home to be on the same level. With this type of simple space, it's easier to get around and you won't have to worry about upstairs noise. This is also an excellent option for those who don't want to worry about staircases, as this can oftentimes be a source for injury in seniors and children. Single-story homes also offer more living space per square foot, since a bulky staircase won't be taking up valuable room in the home and you're able to get that wide open floorplan you've always wanted with ease. You also have more options when it comes to ceiling height, style and lighting, making this a popular choice among many types of Southwest Florida buyers.
Limitations of Single-Story Homes
When building in an area where pilings and engineered footings are required, building a one-story home is typically more expensive per square foot than a two-story home. When these are required, the additional cost of pilings and grade beams on the first level often are more than the added cost of a second floor on a per square foot basis. If pilings are not required, two-story homes typically are more expensive per square foot as you must bring materials to the second floor and typically more scaffolding and structural engineering is involved. Another downfall of single-story homes is privacy, especially if you opt for an open floorplan as there are less dedicated spaces for family members to go. Although the pros can far outweigh the cons for many homeowners, single-story homes aren't for everyone.
Advantages of Two-Story Homes
You may be seeing a lot more two-story spaces here in Southwest Florida and for good reason. There are a lot of advantages that go along with building this type of home. Two-story homes are perfect for those welcoming in guests regularly. This gives you the chance to build in a dedicated guest suite upstairs away from the hustle and bustle of normal family life, so that your guests can enjoy their vacation without anyone getting in the way. Other advantages of two-story homes include:
Two-story homes often have outdoor deck areas overlooking rear views

Enhanced overall views

More customizable design

More privacy & security

More room outside
With a two-story home, you have endless options on how to utilize the space, making this type of home more and more appealing in our area.
Limitations of Two-Story Homes
Two-story homes also come with disadvantages. As previously mentioned, unless pilings are involved two-story homes are typically more expensive to build per square foot. Another disadvantage is the fact that the stairs will likely take up prime square footage and they can be fall hazards for children and older adults. Also, two-story homes often reduce ceilings heights when they are placed over first floor living areas. You may also be looking at a slightly longer build time with this type of home if you're wanting to incorporate multiple stories, as the added structural engineering and scaffolding issues often make them more complex to build.
The Right Home for You
In the end, it comes down to preference. If you're looking for more simplicity and convenience, a single-story home may be perfect for your family. If you're seeking more privacy and a more versatile design, a two-story home may be the right choice. Either way, it's important to partner with a builder who understands our unique Southwest Florida area, so that you can be sure you're getting a home that works for you.
Frey & Son Homes has been building homes in Southwest Florida for over 49 years! Call (239) 495-8200 or visit www.freyandson.com to learn more.