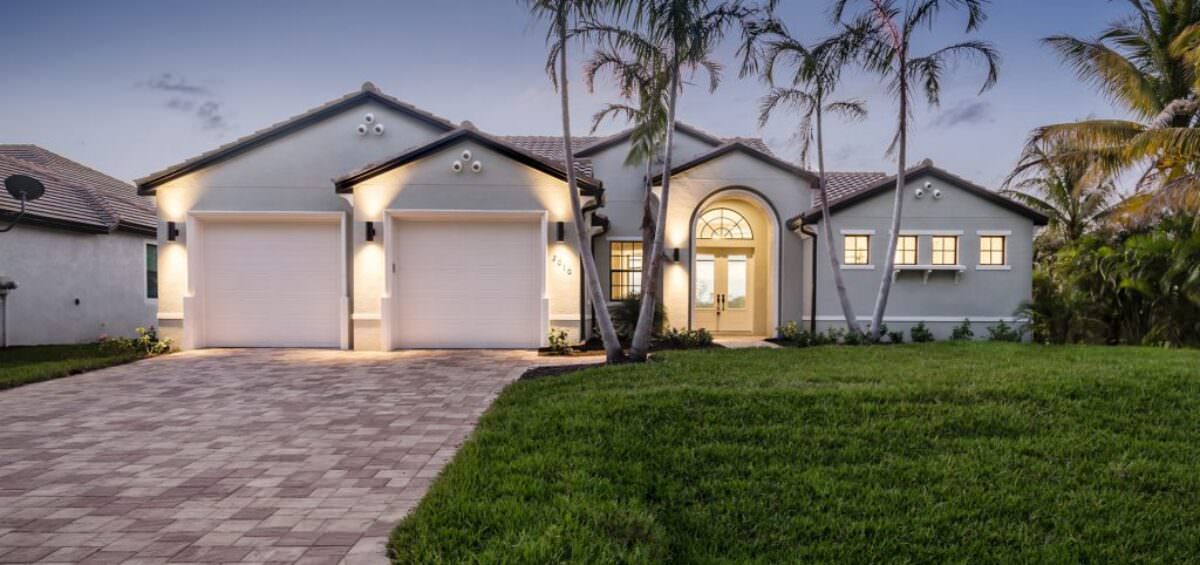 Cape Coral, Florida, January 21st, 2021– Popular Southwest Florida home builder, Frey & Son Homes reveals that the team has broken ground on two new inventory homes in Cape Coral late last year. The home builder has been building in this growing area and beyond for decades and utilizes late-breaking advancements in building technology, top grade building materials and high-quality design in all their homes.
Located at 821 NW 38th Avenue, this Key Biscayne model will feature Frey & Son's new Clean Lines Series, which includes modern enhancements to the space like high ceilings, large windows and contemporary features throughout. With three bedrooms, two bathrooms, a study and a three-car garage, this home will also feature an open floorplan for seamless views of the outdoor living area. As you journey outdoors, you'll find a beautiful pool and spa, relaxing seating area and fabulous views of the iconic Cape Coral backdrop. The second home, located at 1802 NW 38th Place, will feature Frey & Son's newest home design, the Key Largo 2. A large open floorplan greets you, as well as high ceilings, 10′ sliders, a spacious kitchen with an oversized island and outstanding utilization of the space. This home will also feature the Clean Lines Series design, which will incorporate all the modern elements that Southwest Florida buyers desire. Both homes are expected to be completed by June 2021.
With the growing population in Cape Coral, making it the eighth largest city in Florida, Frey & Son Homes (www.freyandson.com) creates more homes to appeal to the Cape Coral market so that the area can continue to grow and thrive. With almost five decades of experience here in Southwest Florida, the Frey & Son Homes team is highly regarded in the industry. President Barry Frey speaks about these two new inventory homes and what they bring to the Cape Coral market.
"Both of these homes are fantastic with terrific layouts that the team is excited to craft into one-of-a-kind spaces. We're looking forward to completing construction and getting these homes on the market for Cape buyers. The need for homes in the Cape is high, especially with its skyrocketing popularity, which is why we seek to continue to add to the value of this area," he explains.
About Frey & Son Homes
Founded in 1972 by Doris and Bill Frey, Sanibel Homes was launched on Sanibel Island. Joined by son Barry in 1985, Frey & Son Homes was born, and since then, the team has been building homes for clients all over Southwest Florida, from Marco Island to Cape Coral. Earning rankings, such as America's Best Builder and being honored as one of the nation's 50 leading luxury builders, Frey & Son Homes continues to impress clients, making them a staple in the Southwest Florida home building industry.
To learn more about Frey & Son Homes, please call (239) 495-8200, email info@freyandson.com or visit www.freyandson.com.