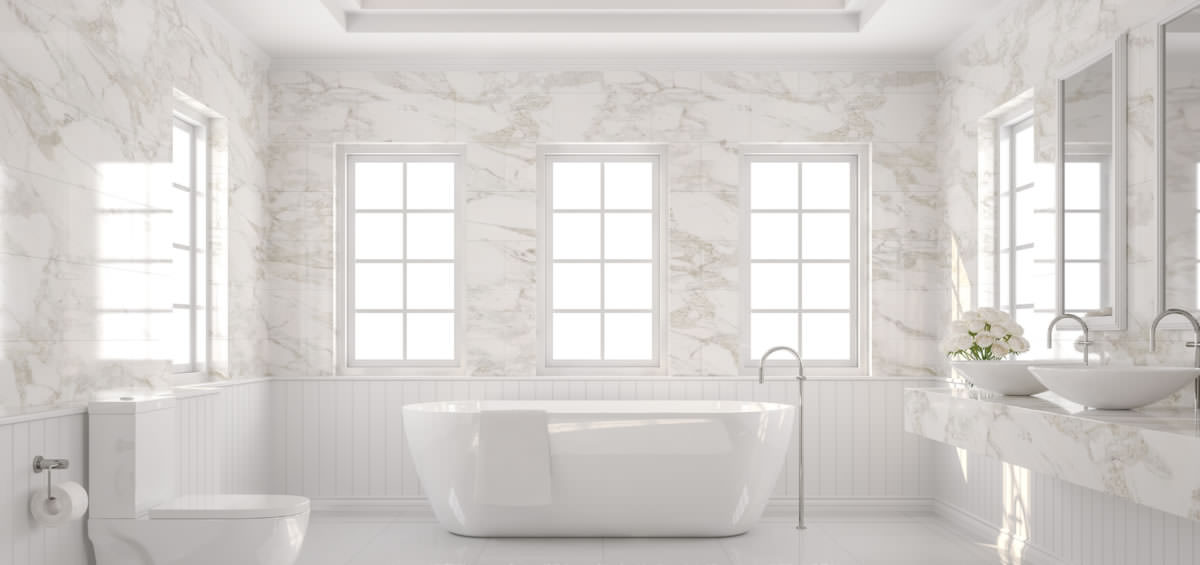 When we think of tile, most of us immediately look down at the floor. After all, that's the only place in the home where it fits the best, right? Well, you may be surprised to find that more and more designers are incorporating tile into other areas of the home to amp up the design factor of the space. Tile is a versatile building and design material that works well in areas, like flooring, kitchens and bathrooms and as we gravitate toward a more modern look in the home, tile is playing a key role in creating a contemporary feel.
So, let's talk tile. Here are our favorite tile design ideas for your home…
Tile Options
Now that you know that tile doesn't just belong on the floor, it's time to get creative. From accent walls to backsplashes, tile is appearing in more places in the home than ever before, due to its versatility and variety of options. A big trend that is being seen more often is tile in all the bedrooms, as opposed to just the living spaces. This is because tile tends to be a better option for those who suffer from allergies. Microscopic particles are easier to clean off of tile, as opposed to trying to remove them from becoming nestled into carpet threads, which makes tile a top choice for many.
What are your choices when it comes to the multitude of tile options? Popular tile options include:
Porcelain

Marble

Ceramic

Glass

Granite

Travertine

Cement
Although porcelain and ceramic continue to be two of the most popular choices, especially here in Southwest Florida with our wet, humid summers, marble, cement and travertine are gaining in popularity, due to their unique and luxurious look they give to the space.
Let's explore some of our favorite looks and uses for tile in the home.
"Wood" Planking
Tile has come a long way in recent years, and if you're searching for the durability of tile, combined with the rustic look of wood, "wood" planking may just be the perfect fit for your home. Creating a more natural, farmhouse look, wood look tile is a top choice for flooring, accent walls and more. Plus, with its strong composition, you won't have to worry about it warping when wet, making wood look tile just right for your Southwest Florida home.
Mosaic Designs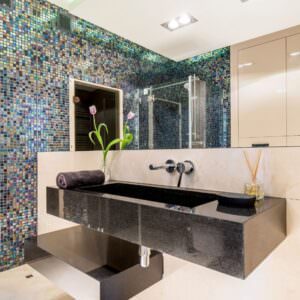 Mosaic tile is especially popular for kitchen backsplashes; however, more and more homeowners and designers are taking this trend to other areas of the home as well…namely, the bathroom. Backsplashes by the vanity and in the shower are hot trends right now, and mosaic tile, with its fun, busy appearance, creates the look that many are searching for in this particular space.
Marble Opulence
If you're looking for more sophisticated, modern style in your home, perhaps nothing portrays this better than marble. Perfect as a flooring option or as something more, marble creates a level of lavish luxury that is unmatched by any other type of tile. Use this as a bathroom backsplash or even as an accent wall for maximum style.
Oversized Tile
When you think of flooring or backsplashes, you may think of standard 12×12 tile for flooring and small penny or hexagonal tile for backsplashes, but you may want to consider going big. Oversized tile is making quite an entrance to the home design scene with a large 24×24 tile size. Larger tiles not only create a sleek look in the space, whether they're used on the floor or on the wall, less grout lines give them the minimalistic, modern look that works in the contemporary spaces of today.
The Ultimate Tile Design
As you can see, tile has quite a place in the home, whether it's luxurious marble or wood look tile, and we're not just talking about on the floor. Tile is both durable and versatile, and available in tons of options, so that you can create the look you desire in your home. If your goal is to design a contemporary space that emits modern style and charm, keep these top tile trends in mind during your next design overhaul or new home project.
The Frey & Son team is excited to help you design and build the perfect home in our Southwest Florida paradise! Call (239) 495-8200 or visit www.freyandson.com to get started.