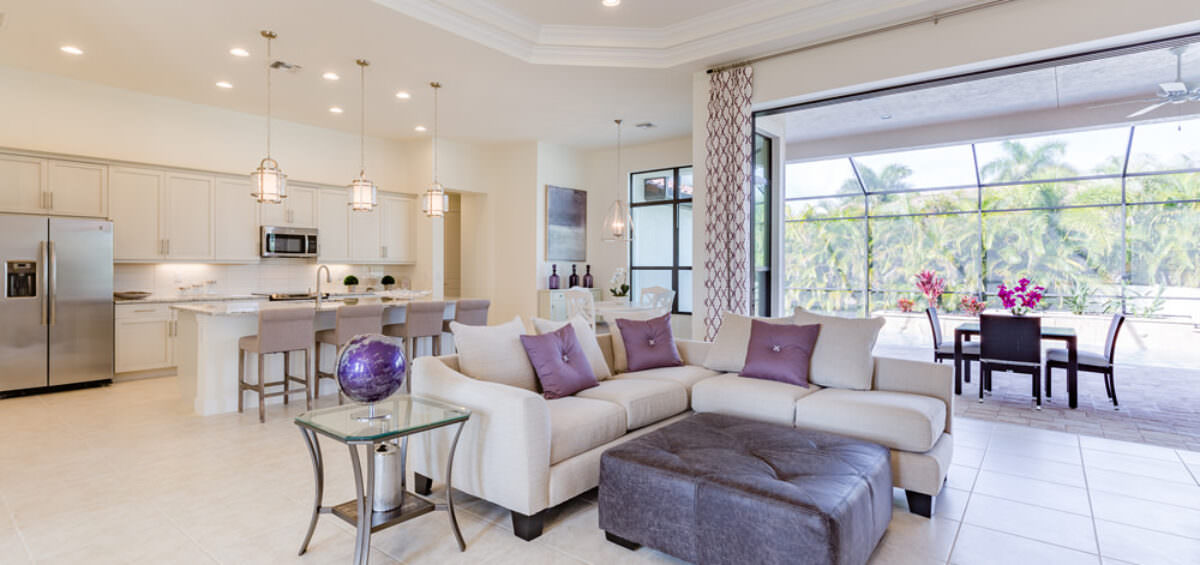 Cape Coral, Florida, October 1st, 2020– Southwest Florida home builder, Frey & Son Homes, announces that it will begin construction on two new inventory homes in Cape Coral, which will feature new, upgraded design elements. The home builder specializes in designing the ultimate Southwest Florida homes, complete with contemporary finishes, spectacular outdoor living areas, superior building materials and more.
Located on a Gulf access canal lot at 3305 NW 21st Terrace, the Key Biscayne model will feature the newly introduced Clean Lines Series, which includes strong visible lines, high ceilings, large windows and other contemporary design elements to give the space the highly sought-after modern feel. Other features of this home will be an airy, open floorplan, fantastic outdoor living space, complete with a designer pool and spa and upgraded finishes, like porcelain tile flooring, stainless steel appliances, granite counter tops and more. The home is priced at $624,900 and scheduled for completion in March 2021. The second inventory home will be located at 3110 NW 43rd Place, and will feature the St. Thomas plan, which includes a 25' wide angled bank of sliding glass doors focused on the Lupine Lake with direct access to the Gulf of Mexico with no bridges.
Frey & Son Homes (www.freyandson.com) has built over 5,000 homes across Southwest Florida, and is known for its extreme attention to detail, highly-focused and professional team and gorgeous living spaces. Incorporating its Clean Lines Series into these new inventory homes, the Frey & Son team continues to pave the way when it comes to luxury Southwest Florida home design.
Barry Frey, President of Frey & Son Homes, speaks about the new projects in Cape Coral.
"The pandemic is causing many to move away from urban areas. Cape Coral has a low-density feel and the warm winters are conducive to healthy outdoor living. Therefore, Cape Coral continues to grow as a destination of choice, so much so that more homes are needed to accommodate the influx of residents here. With these two new inventory homes, we're looking forward to showing potential buyers what the Frey & Son name represents," he says.
About Frey & Son Homes
Founded in 1972 by Doris and Bill Frey, Sanibel Homes was launched on Sanibel Island. Joined by son Barry in 1985, Frey & Son Homes was born, and since then, the team has been building homes for clients all over Southwest Florida, from Marco Island to Cape Coral. Earning rankings, such as America's Best Builder and being honored as one of the nation's 50 leading luxury builders, Frey & Son Homes continues to impress clients, making them a staple in the Southwest Florida home building industry.
To learn more about Frey & Son Homes, please call (239) 495-8200, email info@freyandson.com or visit www.freyandson.com.