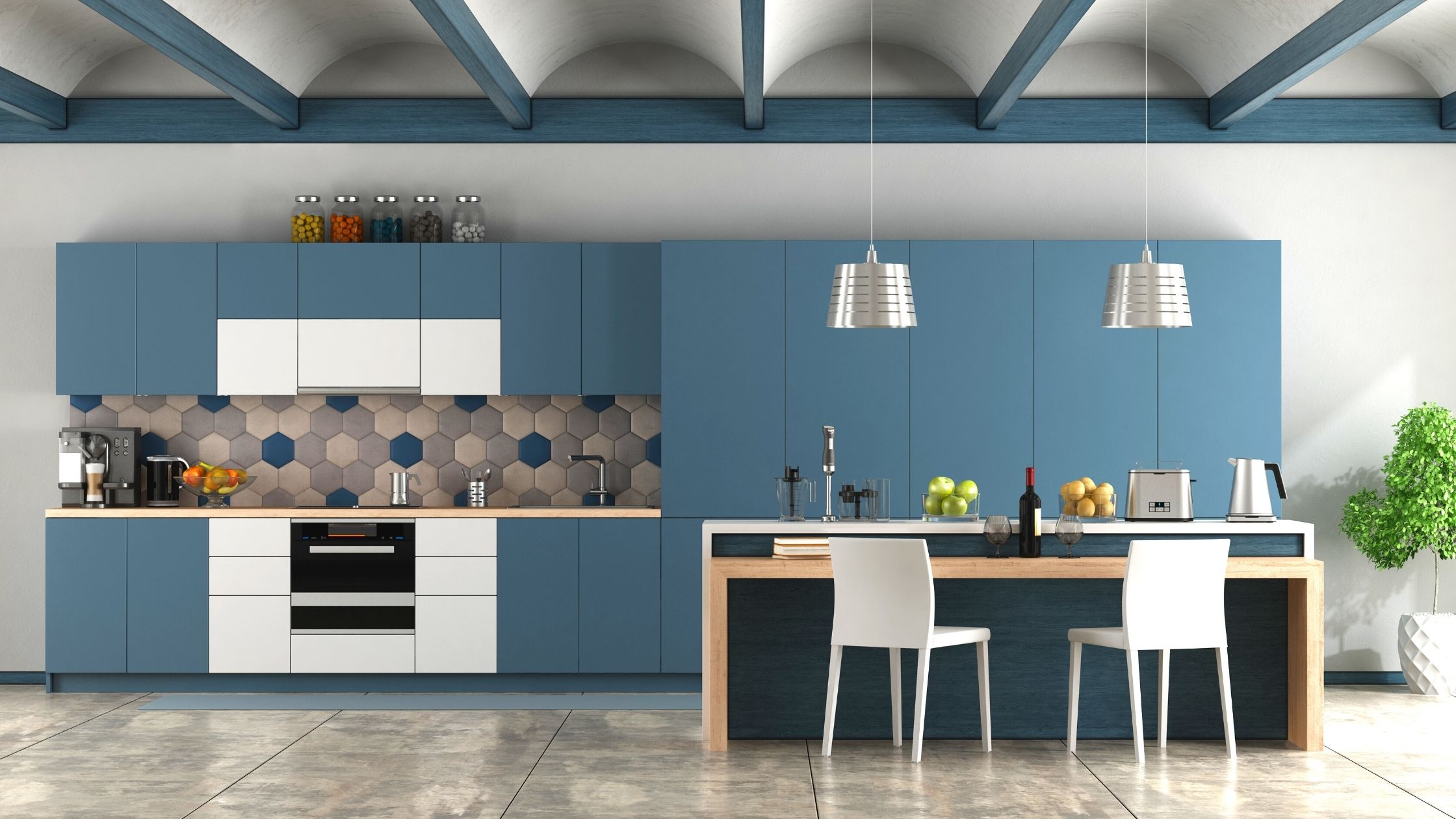 The kitchen…it's the heart of the home, the main hub of activity, and when it comes to designing the perfect space, your kitchen's style and function matter. From the appliances that you select to help you create masterpieces for your family to enjoy to the layout, which sets the tone for how your home operates, there are many choices to be made. When working with your builder, you'll want to sit down with their team to decide just what type of selections you desire in your new space. And whether you're designing a home from the ground up or remodeling, every piece of the design is important. Perhaps an area that impacts a lot of how the kitchen space looks and feels is the cabinet selection, and in today's modern world, certain styles reign supreme. Here are the top kitchen cabinet trends you won't want to miss.
Dark Walnut Contrasts
For years, the all-white kitchen was the "it" design throughout homes across Southwest Florida and beyond. White cabinets with subway tile backsplashes, accented by touches of gray was the gold standard among many homes. Although this is still the case for many homes today, builders and designers are adding in a bold element to this look to enhance the stylish feel…rich wood cabinet accents. Think white up top and the wood look below to provide some depth and interest to this space. Not only is this style perfect for mid-century modern homes, it's also perfect for rustic farmhouse designs as well.
Concealed Cabinets
These days, home design is all about minimalism. Clean lines, light colors and simplistic accents throughout allow more homes to emanate that hotel vibe that many are seeking, and the kitchen is no exception. Concealed cabinets allow you to not only hide everything that you're storing in them, but also essentially hide the cabinets themselves. Paneled cabinets give off the illusion of a wide open space without the clutter, but are exceptionally efficient at storing all of your kitchen must-haves easily.
Bright Colors
Pops of color are back in a big way, especially in the kitchen. By sticking to a neutral color palette with your counters and backsplash, you're able to accentuate the room with vibrant cabinet colors to really enhance the space, like:
Mint green

Light yellow

Sky blue

Sage green

Pale pink
By going bold with your cabinets, you're not only adding extra style to this space, but you're also creating a lively, fresh room in the home, perfect for getting your day started on the right foot. Designers encourage boldness in the kitchen for a friendly, inviting space to gather and entertain.
Metallics
Builders and designers are going bold with modern-day homes, and homeowners are loving it. The use of metallic accents isn't new; however, metallic cabinets are growing in popularity, due to the interest they create in the space. Opt for simple countertop materials and a minimalist backsplash, then amp up the style factor with your cabinets.
Your Modern Kitchen
Whether the style of your home is coastal contemporary or rustic farmhouse, mid-century modern or industrial, there's a kitchen cabinet material out there that will perfectly complement your home. Partner with a builder who has a dedicated team to help you find the perfect cabinet selections for your space, so that they effortlessly complement your home's design.
Frey & Son Homes is excited to help you build the perfect home in Southwest Florida! Call (239) 495-8200 or visit www.freyandson.com to get started.