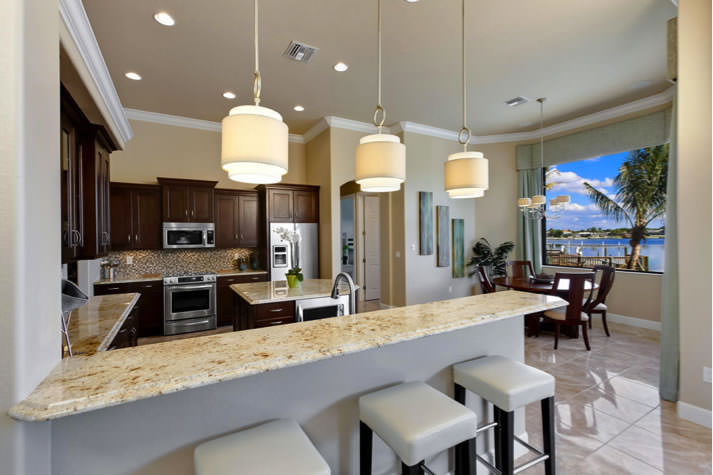 Being a homeowner, you can expect to make quite a lot of decisions. Everything from paint color to outlet cover style to fan blade size needs to be determined in order to create the look you want for the space. And when it comes to home design, lighting is no exception. Perhaps one of the most important choices you need to make when designing your home's overall look and feel, lighting has the potential to make or break your home's appeal. Here's how to choose the right lighting for your home.
Why Lighting Is Important
The right lighting sets the tone for the space. Not only is lighting functional as it helps you and your guests navigate through the home, it's also a major way to make your home feel more personalized. There are so many options for lighting on the market these days, it's hard not to get lost in it all. From sconces to track lighting, chandeliers to floor lamps, choosing the perfect piece can seriously impact the overall look of your home. Let's talk about where to start.
Sizing Up The Space
One of the first things we recommend is to take a look at the room you're decorating and figure out which angle you want to take when it comes to design. Once you pick your design direction, it's time to size up the space. You wouldn't want to place a gigantic chandelier in a tiny powder room, just like you wouldn't want a small piece in your living area. It's all about finding the right piece that meets the style and the size of the room. Try small sconces in hallways or powder baths and an impressive chandelier in the grand entrance to create that ambiance you desire.
Creating A Focal Point
It's often said that lighting is a focal point in the home. Not only does lighting keep us safe when we're traveling in areas, such as hallways and stairways, it also creates a feel that is unique to your home. Lighting can play a key role in the following areas of the home, such as:
Living areas

Kitchens

Bathrooms

Hallways

Foyers & entryways
Choose fixtures that don't just blend in, choose feature pieces that complement and add onto the room's appeal. Accent your décor with your lighting and your guests will be wowed.
Accentuating With Recessed Lighting
Need a lighting solution that's more low profile? Try recessed and track lighting. Meant to be more concealed, this type of lighting is perfect for functionality and style. Recessed lighting is bit less obvious than feature fixtures, yet it casts a brilliant tone to a room, and can be an effective way to showcase artwork on your walls and really make the pieces pop.
Your Guide to Home Lighting
When it all comes down to it, your overall vision, coupled with functionality is important. Be sure to choose the pieces that work well in your home and in the space, and don't be afraid to try something different. You may find that an exotic fixture is just what the space needs in order to really shine.
The experts at Frey & Son Homes are ready to build you the home you've always dreamed of, complete with the perfect lighting. Contact our team at (239) 495-8200 or visit www.freyandson.com to get in touch today.