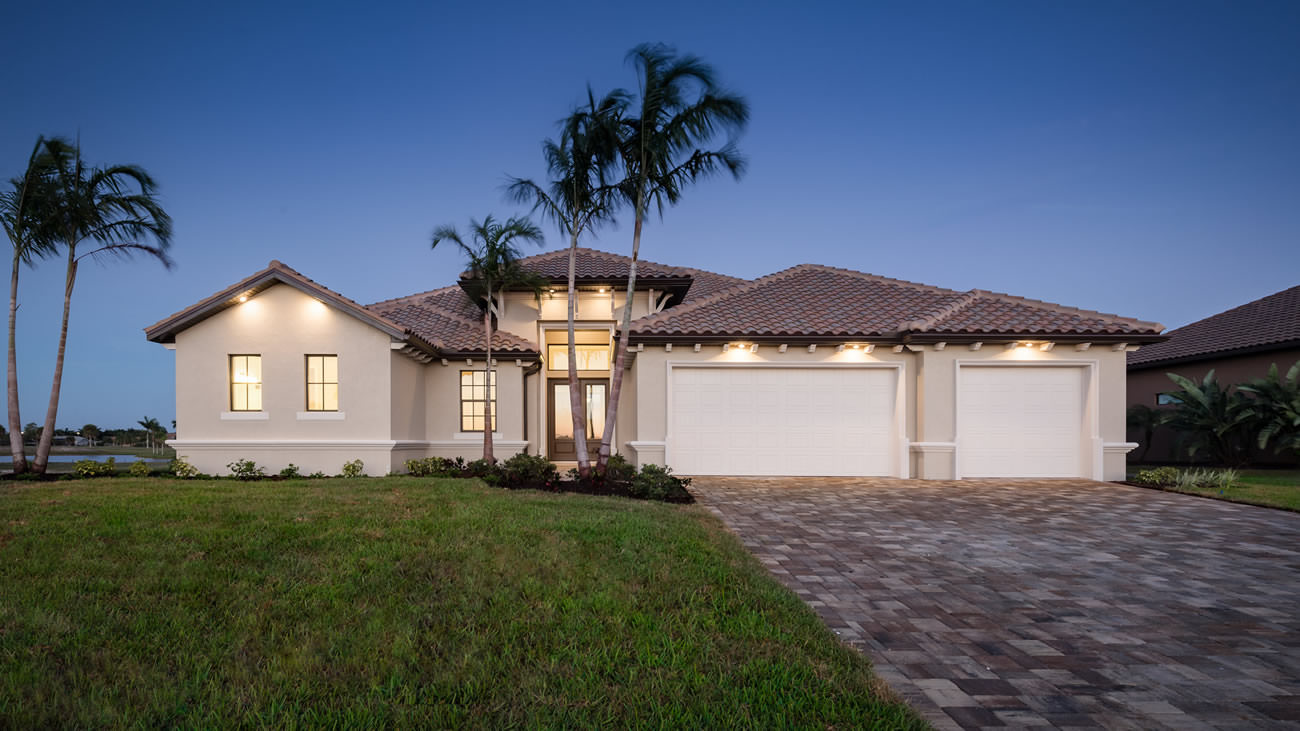 Cape Coral, Florida, May 1st, 2018– Frey & Son Homes announces that a new home in Cape Coral has been completed and is ready for occupancy. For the past 46 years, Frey & Son Homes has been building spectacular homes in Cape Coral, Marco Island and all over Southwest Florida, making them one of the most well-known and skilled home builders in the area.
Located in the gated golfing community of Cape Royal at 11750 Royal Tee Circle in Cape Coral, this 3 bedroom 3 bath, with 3-car garage home is designed in a West Indies style that features high ceilings and 10' tall 90 degree sliding doors in the living room. The master bedroom includes 10' tall sliders that open up to the private pool/spa, wrap around panoramic windows around the morning room and walls of glass give the home a much larger feel. You will find classic Frey & Son Homes touches throughout the home, such as, the open span lanai, beautiful wood cabinetry, granite counters throughout and high-end appliances. This one-of-a-kind home is priced at $609,900.
Frey & Son Homes (www.freyandson.com) is among the premier luxury home builders in the country, ensuring that each of their homes is built with a quality that will last for generations. Building with the finest materials, professional workmanship, and quality customer service, Frey & Son Homes prides itself on reputation and perfection. Barry Frey, President of Frey & Son speaks about this beautiful Cape Coral property.
"This home stands out from others in the neighborhood. This golf course home has stunning lake and fairway views and is designed with timeless style. The flow of the home and unique location is what will make this home stand out with potential buyers," he says.
Founded in 1972 by Doris and Bill Frey, Sanibel Homes was launched on Sanibel Island. Joined by son Barry in 1985, Frey & Son Homes was born, and since then, the team has been building homes for clients all over Southwest Florida, from Marco Island to Cape Coral. Earning rankings, such as America's Best Builder and being honored as one of the nation's 50 leading luxury builders, Frey & Son Homes continues to impress clients, making them a staple in the Southwest Florida home building industry.
To learn more about Frey & Son Homes, please call (239) 495-8200, email info@freyandson.com or visit www.freyandson.com.