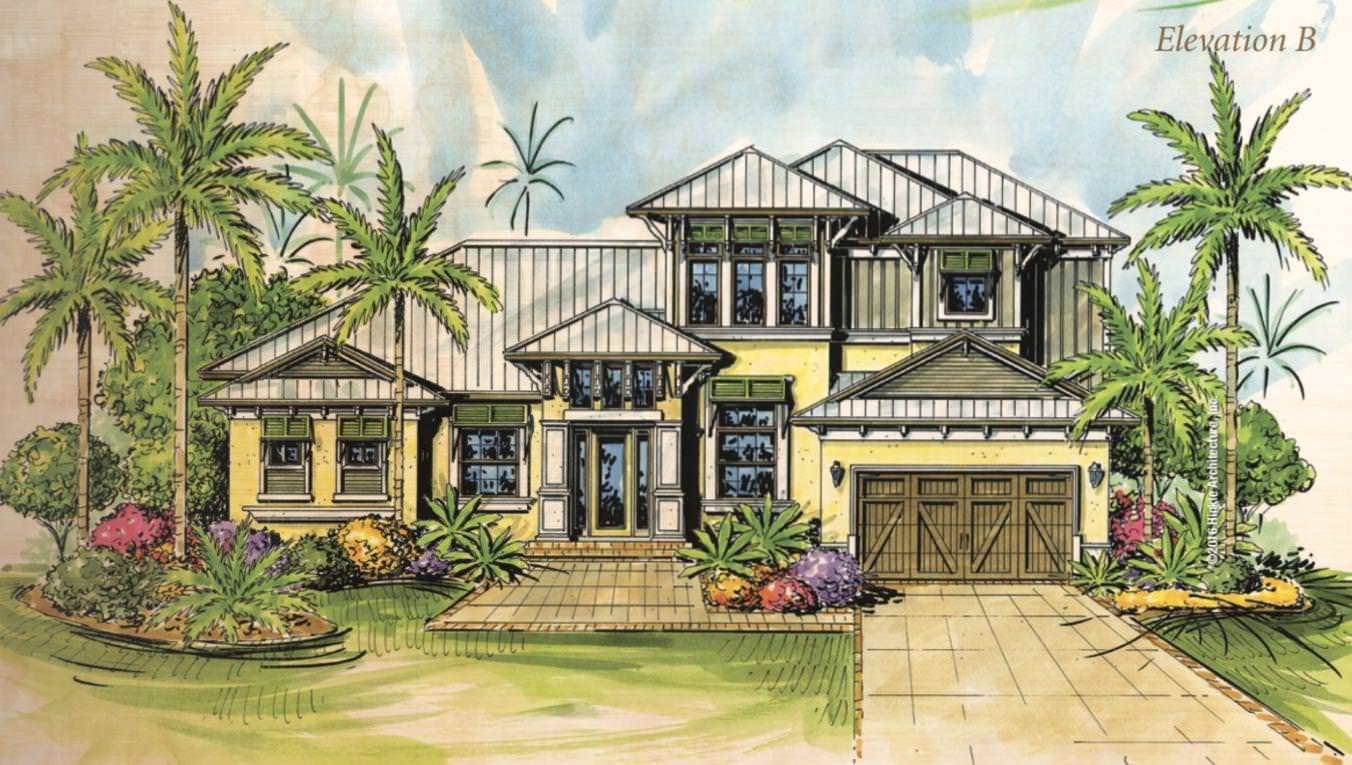 Naples, Florida, May 24th, 2018 – Frey & Son Homes announces that a new home on Marco Island is underway. For the past 46 years, Frey & Son Homes has been building amazing homes in Cape Coral, Marco Island and all over Southwest Florida, making them one of the most experienced and skilled home builders in the area.
Located at 1806 Maywood Drive Marco Island this stunning property will have a picturesque canal view and will be positioned right on a 90' wide sailboat access lot. Frey & Son's latest home-building creation promises to be one of the most sought-after homes on the market today. This home will boast a sleek, modern interior with a West Indies exterior elevation.
The custom two-story model home is full of open space and room for relaxation. It features a 3-car garage with an additional bay designed for bicycles and storage. The home will showcase 5 bedrooms, 4 bathrooms, and will include high ceilings throughout. Downstairs you'll find a dining room, study and a morning room fitted with an aquarium glass window highlighting views to the rear. All the sliding glass doors are 10' tall PGT sliders with impact glass and all windows throughout feature impact glass. The kitchen contains a huge walk-in pantry. Once you travel upstairs you'll find a loft, perfect for extended guest visits and additional bedrooms. In the backyard, you'll be able to enjoy a resort-style pool and spa along with an outdoor kitchen made for entertaining.
Frey & Son Homes (www.freyandson.com) is among the premier luxury home builders in the country, ensuring that each of their homes is built with a quality that will last for generations. Building with the finest materials, professional workmanship, and quality customer service, Frey & Son Homes prides itself on reputation and perfection. Barry Frey, President of Frey & Son speaks about this beautiful Marco Island property.
"The home was designed for the couple with visiting children and grandchildren. The upstairs loft serves as a second family room ensuring a comfortable visit for large extended families", he says.
About Frey & Son Homes
Founded in 1972 by Doris and Bill Frey, Sanibel Homes was launched on Sanibel Island. Joined by son Barry in 1985, Frey & Son Homes was born, and since then, the team has been building homes for clients all over Southwest Florida, from Marco Island to Cape Coral. Earning rankings, such as America's Best Builder and being honored as one of the nation's 50 leading luxury builders, Frey & Son Homes continues to impress clients, making them a staple in the Southwest Florida home building industry.
To learn more about Frey & Son Homes, please call (239) 495-8200, email info@freyandson.com or visit www.freyandson.com.