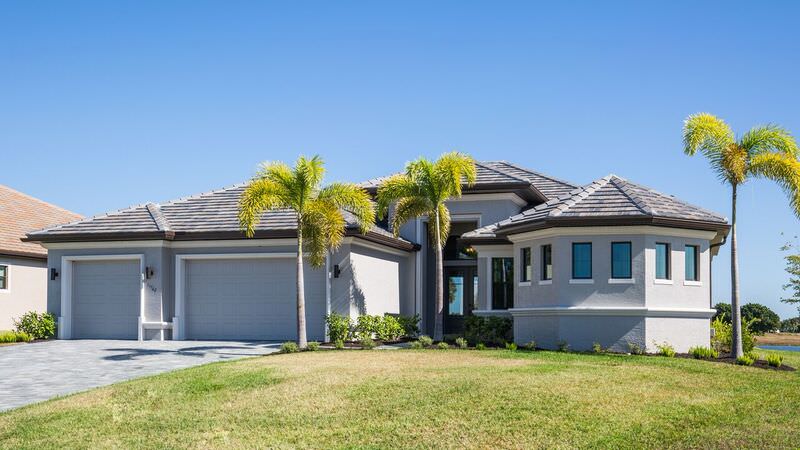 Naples, Florida, March 16th, 2021– Frey & Son Homes announces that the team will be starting a new model home project on Pine Ridge Road in Naples later this month. After having built in Naples and Bonita golf course communities primarily through 2010, the home builder currently builds mostly in Cape Coral and Marco Island, utilizing only the finest building materials, technology and design to appeal to the Southwest Florida buyer. This will be a new endeavor for Frey & Son, and the team hopes to complete the project by the end of the year.
Located at 4472 Pine Ridge Road in North Naples, the three bedroom, three bathroom, plus den updated Marsala model will feature an open-concept plan, which will include high ceilings, clean lines and panoramic windows running along the rear of the home. With 90 degree 10′ sliders, you'll be able to take in exquisite views of the outdoor living area, which will feature a designer pool and spa, outdoor seating area and more. A kitchen with an oversized island, plus stainless steel appliances and beautiful cabinetry will greet you, as well as luxury appointments throughout the home. With Frey & Son's signature touches accentuated in this home, the team is looking forward to unveiling this model at the end of the year.
For over 49 years, Frey & Son (www.freyandson.com) has been building stunning homes across Southwest Florida. Known for enhanced design, unmatched customer service and a style that perfectly encapsulates the Southwest Florida area, no other builder comes close to Frey & Son and their legendary building techniques and designs. Barry Frey, President of Frey & Son Homes, speaks about the Naples project and how he hopes it will impact our area.
"Having the opportunity to build a model home here in Golden Gate Estates is something our team has been looking forward to for quite some time. We have fabulous model homes in Cape Coral and on Marco Island, and with the boom in the local housing market, showcasing our designs in Naples just makes sense. With more and more people moving here, the demand for new homes is high and there are more buyers than homes available right now, making the Naples market highly desirable," he explains.
About Frey & Son Homes
Founded in 1972 by Doris and Bill Frey, Sanibel Homes was launched on Sanibel Island. Joined by son Barry in 1985, Frey & Son Homes was born, and since then, the team has been building homes for clients all over Southwest Florida, from Marco Island to Cape Coral. Earning rankings, such as America's Best Builder and being honored as one of the nation's 50 leading luxury builders, Frey & Son Homes continues to impress clients, making them a staple in the Southwest Florida home building industry.
To learn more about Frey & Son Homes, please call (239) 495-8200, email info@freyandson.com or visit www.freyandson.com.