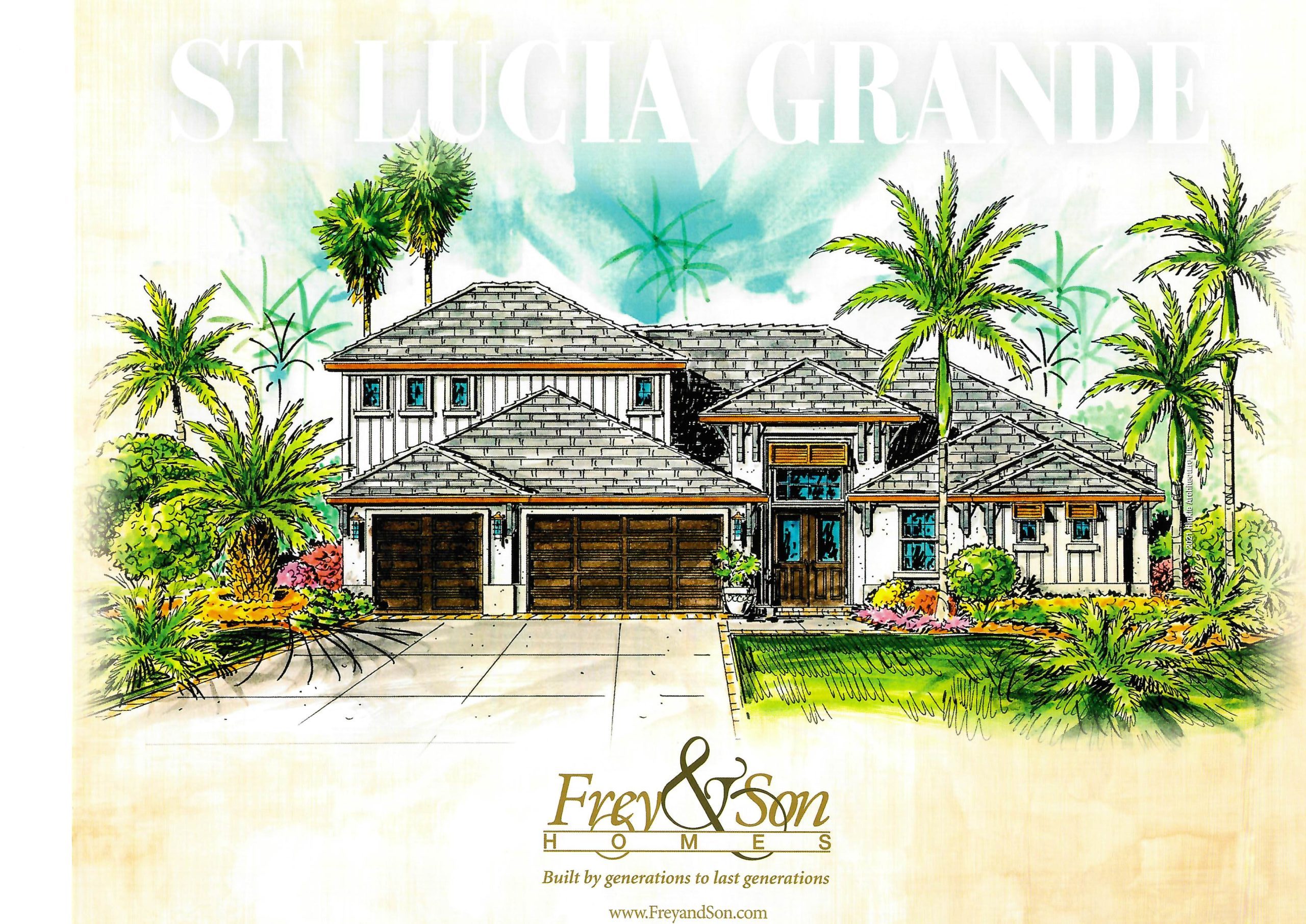 Cape Coral, Florida, September 15th, 2022—Southwest Florida home builder, Frey & Son Homes, announces that a new home is underway in Cape Coral, featuring direct sailboat access to the river, residing less than 10 minutes to big water. The home builder has been designing homes that appeal to our unique Southwest Florida homebuyers, complete with high-end details, luxury finishes and cutting-edge building techniques for the past 50 years.
Located at 140 SW 57th Street in Cape Coral, this four-bedroom, three-bathroom St. Lucia Grande model showcases two floors of contemporary living space, with a loft area and covered deck, open floorplan and elegant details throughout. Located just minutes from the river, this property features direct sailboat access, perfect for avid boaters and those who wish to be near the Gulf of Mexico and barrier islands of Southwest Florida. A stunning outdoor living area makes for a comfortable setting to enjoy the phenomenal views, while a designer pool and spa provides much-needed relaxation during our balmy Southwest Florida days. Other notable features include a spacious garage, study/den area, expansive great room and plenty of signature Frey & Son features inside and out, including iconic views throughout every angle of the home. Construction is well underway on this home, which is expected to be completed in the Spring of 2023.
Frey & Son Homes (www.freyandson.com) celebrates its 50th anniversary this year, having built over 5,000 homes across Southwest Florida during its time in the industry. Recognized for keen attention to detail and exceptionally modern designs, Frey & Son Homes is one of the most well-known local builders in our area and beyond.
President, Barry Frey, speaks about the newest home about to hit the Cape Coral market.
"This home is fabulous from every angle. It has a magnificent location close to the water, and with two floors, there's plenty of space for guests, as well as children. It's the perfect family home, an ideal seasonal residence, and we're looking forward to unveiling it in the new year," he explains.
About Frey & Son Homes
Founded in 1972 by Doris and Bill Frey, Sanibel Homes was launched on Sanibel Island. Joined by son Barry in 1985, Frey & Son Homes was born, and since then, the team has been building homes for clients all over Southwest Florida, from Marco Island to Cape Coral. Earning rankings, such as America's Best Builder and being honored as one of the nation's 50 leading luxury builders, Frey & Son Homes continues to impress clients, making them a staple in the Southwest Florida home building industry.
To learn more about Frey & Son Homes, please call (239) 495-8200, email info@freyandson.com or visit www.freyandson.com.