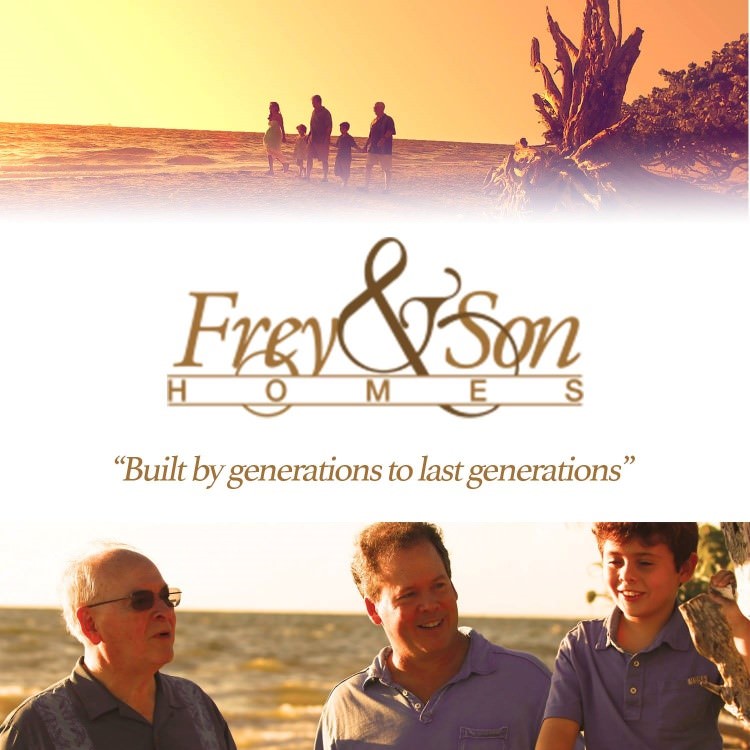 It all started in 1972. Doris and Bill Frey launched Sanibel Homes, a home building company on beautiful Sanibel Island. Learning a wealth of knowledge about the craft and the people of Southwest Florida, Sanibel Homes grew and in 1985 their son, Barry, joined the team. Together, the family-owned and operated company built exquisite residences all the way from Marco Island to Cape Coral, earning top rankings, such as America's Best Builder. Frey & Son soon became recognized as one of the nation's top 50 leading luxury home builders.
Success like this doesn't happen overnight. It takes dedication, expert craftsmanship and a strong will to provide clients with the best. Having built over 4,500 distinctive homes, Frey & Son Homes bases their work on the foundation of five fundamental ideals.
Architectural Integrity
Relationships are important. That's why Frey & Son's long standing relationships with talented and gifted architects is key to building stunning luxury homes. Understanding the area and the factors that go into the Florida subtropical climate, these architects meet the requirements needed in order to build homes to accommodate such a climate. These personal relationships help Frey & Son to build better homes fit to withstand the elements, while also providing an oasis for the client to enjoy.
Value & Mutual Trust
Transparency is essential in the home building process, yet oftentimes it seems to get overlooked. At Frey & Son Homes, we pride ourselves on communicating openly and candidly with all parties involved in the building process. We share critical details that have an impact on:
Anything that has an impact on the project is communicated properly to ensure everyone is on the same page and no surprises occur.
Outstanding Craftsmanship
Having high expectations is a quality of Frey & Son Homes. We respect the skills and talents of our contractors and set fair and reasonable expectations in order to get projects completed in a timely manner, paying promptly for a job well done. We feel as though those who are appreciated will work hard and take pride in their work.
Ongoing Service
Our services don't stop upon completion of your project. We work long after the work is done to ensure that all components are functional and done to your expectations. We don't just build homes, we build homes that work. That's why it's important for us to make sure that the integrity of your home is maintained, so there are no issues or hassles later on. After all, there's enough going on when moving into a new home. You don't have time for problems.
Teamwork
Perhaps the most important element is how we interact and collaborate with our team and our clients. Open communication is key and we enjoy working closely with clients to get the look that they desire. Our clients' dreams are entrusted to us, and with all of our contractors, sub-contractors and support staff, we can achieve optimum results. Cooperation is essential to making dreams realities.
Frey & Son Homes: Built by Generations to Last Generations
It's no surprise that we love what we do. It shows in our team, our ideas and ultimately in our final product. Our clients' happiness is what we strive for, and knowing that we delivered to them a home to last generations gives us great pride in our work. Our story is one of family and hard work, and we look forward to the future.
The experts at Frey & Son Homes are ready to help you with your project. Visit our model home showcases in Cape Coral and Marco Island, call (239) 495-8200 or visit www.freyandson.com to get started today.