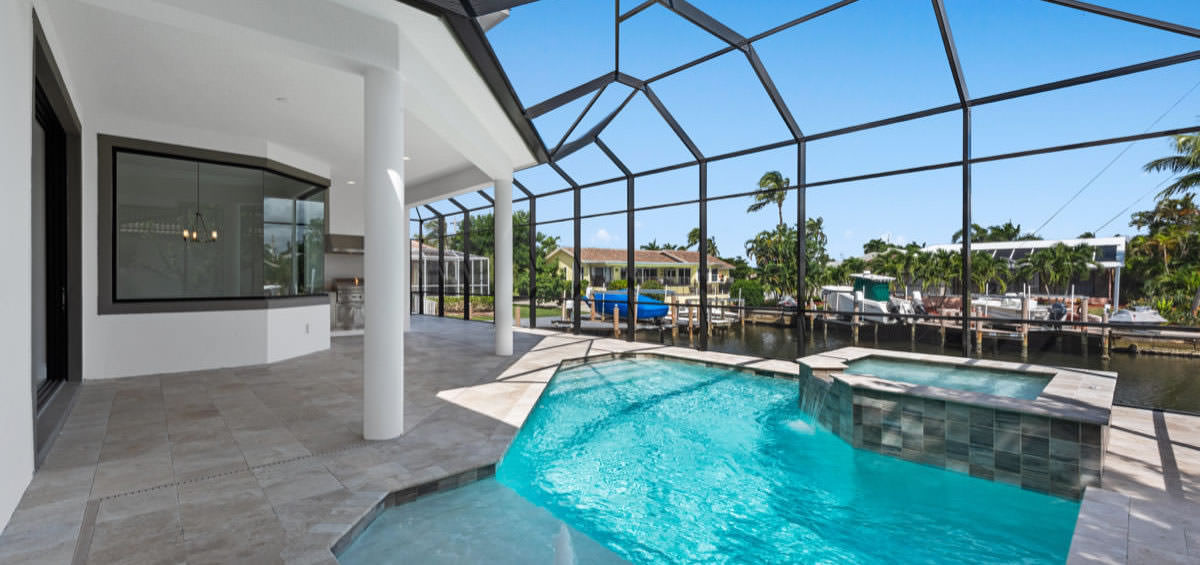 Marco Island, Florida, November 6th, 2019– Southwest Florida home builder, Frey & Son Homes announces that its newest inventory home, available for immediate occupancy, will be featured in this week's Marco Island Realtor Caravan. The home builder has been building custom designed homes throughout Collier and Lee Counties for over 47 years and focuses on top-of-the-line building practices, luxury finishes and open communication with the client.
The Realtor Caravan is held every Friday morning and showcases approximately ten homes in the area. This Friday, Frey & Son's newest Dominica model with be on the tour. Many realtors are part of this tour, and once a home is featured, it must wait at least six months to be featured again, making first impressions an important factor on the tour.
Located at 1806 Maywood Court on Marco Island, this five bedroom, four bathroom, two-story home showcases 3689 square feet of living space and an abundance of upgraded features. These include a Chef's kitchen, designer pool and spa, outdoor kitchen and timeless views of the beautiful waters on Marco Island. This direct access lot offers seamless entry into the river and the Gulf of Mexico, making it a must-see home. This home is priced at $1,971,900.
Frey & Son (www.freyandson.com) builds homes to appeal to the Southwest Florida home buyer and features stunning luxury design in every home available. President, Barry Frey speaks about this home and the advantages of the Realtor Caravan.
"Showcasing one of our homes on this tour is an honor, and we're looking forward to getting this newly completed project out to the realtors to let them see just what we've been working towards with this home. I think the features are fabulous and the views are remarkable, making this home an impressive part of the tour," he explains.
About Frey & Son Homes
Founded in 1972 by Doris and Bill Frey, Sanibel Homes was launched on Sanibel Island. Joined by son Barry in 1985, Frey & Son Homes was born, and since then, the team has been building homes for clients all over Southwest Florida, from Marco Island to Cape Coral. Earning rankings, such as America's Best Builder and being honored as one of the nation's 50 leading luxury builders, Frey & Son Homes continues to impress clients, making them a staple in the Southwest Florida home building industry.
To learn more about Frey & Son Homes, please call (239) 495-8200, email info@freyandson.com or visit www.freyandson.com.