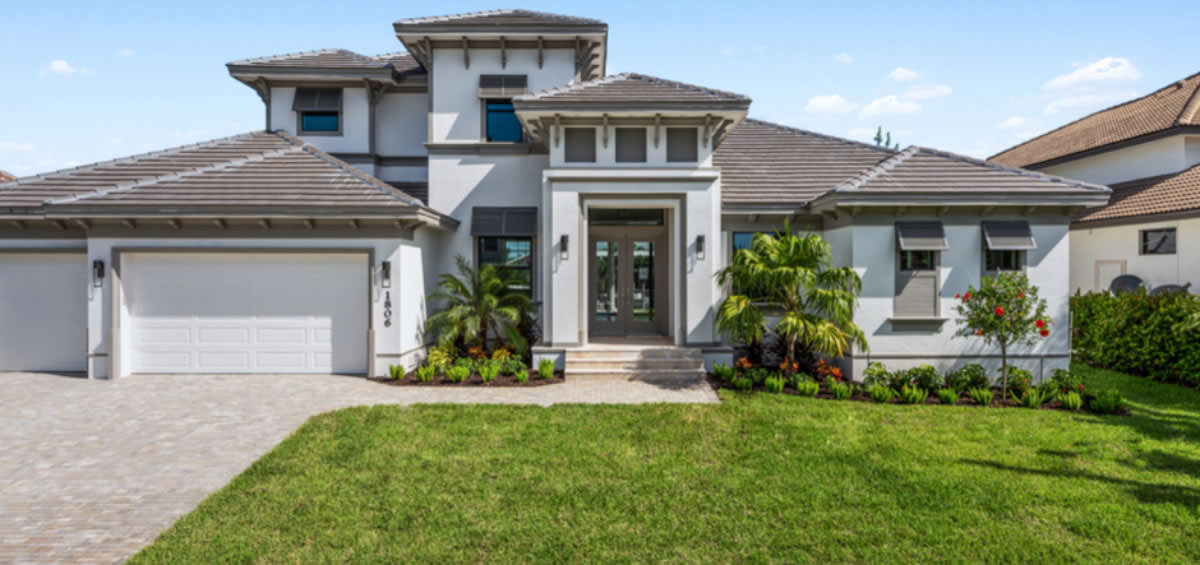 Marco Island, Florida, October 16th, 2019– Frey & Son Homes announces that it has completed its newest inventory home on Marco Island earlier this month. From Cape Coral to Marco Island and everywhere in between, Frey & Son Homes has been building impressive homes in some of the most prestigious communities for over 47 years. Backed by the latest building techniques, expert craftsmanship and top-of-the-line building practices, Frey & Son Homes continues to be a driving force of excellence in the home building industry.
Located at 1806 Maywood Court on Marco Island, this five bedroom, four bathroom two-story Dominica model features 3689 square feet of living space. A loft/media room, morning room, study and Chef's kitchen with an oversized island are also included, as well as a stunning outdoor living area, complete with a designer pool, spa and outdoor kitchen. This exquisite home offers direct access to the river and the Gulf of Mexico and offers incredible views throughout. Other notable features of this home include granite counter tops, a four-car garage, stainless steel appliances and many more signature Frey & Son touches. This home is now available for immediate occupancy and is priced at $1,971,900.
Frey & Son Homes (www.freyandson.com) has been building homes to last generations for decades and focuses on incorporating only the finest materials in their homes. With pristine attention to every detail and expert home selections, Frey & Son builds homes that are not only impressive, but are highly sought-after in the area. Knowing what the buyer desires in a home, Frey & Son seeks to design their homes to appeal to the ultimate Southwest Florida lifestyle.
President, Barry Frey, speaks about this new inventory home and how it's different from other homes in the area.
"We find many buyers on Marco are looking for homes to accommodate family gatherings at special times such as Christmas, Thanksgiving, Easter or spring break. The home is designed so the extended family can live privately in the upstairs portion off the house, which includes three bedrooms, two bath rooms and a loft, while the owners of the home can enjoy the main living areas on the first floor. This separation of spaces makes this home our most popular plan on Marco Island," he explains.
About Frey & Son Homes
Founded in 1972 by Doris and Bill Frey, Sanibel Homes was launched on Sanibel Island. Joined by son Barry in 1985, Frey & Son Homes was born, and since then, the team has been building homes for clients all over Southwest Florida, from Marco Island to Cape Coral. Earning rankings, such as America's Best Builder and being honored as one of the nation's 50 leading luxury builders, Frey & Son Homes continues to impress clients, making them a staple in the Southwest Florida home building industry.
The home is available for viewing each weekend during open house hours or by appointment during the week. To see the home or learn more about Frey & Son Homes, please call Ryan Johnson at (239) 394-1964, email rjohnson@freyandson.com or visit www.freyandson.com.