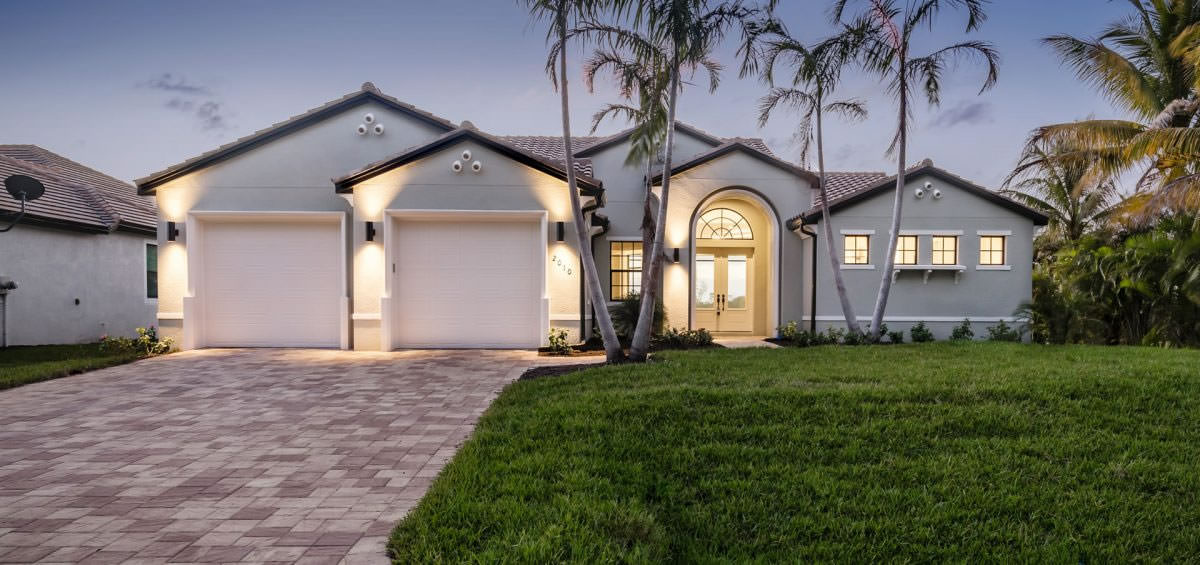 Cape Coral, Florida, December 19th, 2019– Southwest Florida home builder, Frey & Son Homes announces that construction will begin on two inventory homes, located in Cape Coral this month. The builder has been building homes from Cape Coral to Marco Island since 1972 and focuses on superior building techniques, open communication and home design trends to appeal to the Southwest Florida home buyer.
The inventory homes will be located at 2123 SW 43rd Lane and 428 NW 32nd Place in Cape Coral and will feature many of the spectacular finishes and selections that Frey & Son Homes is known for, including coastal contemporary design and upgraded finishes. The home at 2123 SW 43rd Lane is on a canal front lot, featuring intersecting canal views in highly desirable unit #73. The home at 428 NW 32nd Place is in unit #59, which provides excellent access to Matlacha Pass and Veterans Pkwy. The homes will also include fabulous outdoor living areas, complete with designer pools and spas, beautiful porcelain tile in the main living areas, stainless steel appliances and the signature Frey & Son open span lanais with no columns to provide stunning views throughout the homes. The team plans on breaking ground on these homes later on this month, setting them for completion in the new year.
Frey & Son Homes (www.freyandson.com) builds homes to last generations, utilizing only the best materials, building practices and design services. The builder works with nationally-recognized trade partners and provides expert resources to clients when it comes to designing the perfect home in paradise. Through quality, experience, service and innovation, Frey & Son Homes has become a pioneer in the home building industry.
Barry Frey, President of Frey & Son Homes speaks about the new inventory homes and what can be expected once the projects are completed.
"Our Cape Coral inventory homes have been selling really well. When one sells, we start a replacement. This month two houses sold. Cape Coral is quickly becoming a more highly-desired area and the demand for more available homes is increasing. We are looking forward to starting these two projects, so that we can continue to showcase the Frey & Son approach to our clients. These homes are going to be beautiful with fantastic features inside and out, and we're excited to be able to unveil them in the new year," he explains.
About Frey & Son Homes
Founded in 1972 by Doris and Bill Frey, Sanibel Homes was launched on Sanibel Island. Joined by son Barry in 1985, Frey & Son Homes was born, and since then, the team has been building homes for clients all over Southwest Florida, from Marco Island to Cape Coral. Earning rankings, such as America's Best Builder and being honored as one of the nation's 50 leading luxury builders, Frey & Son Homes continues to impress clients, making them a staple in the Southwest Florida home building industry.
To learn more about Frey & Son Homes, please call (239) 495-8200, email info@freyandson.com or visit www.freyandson.com.