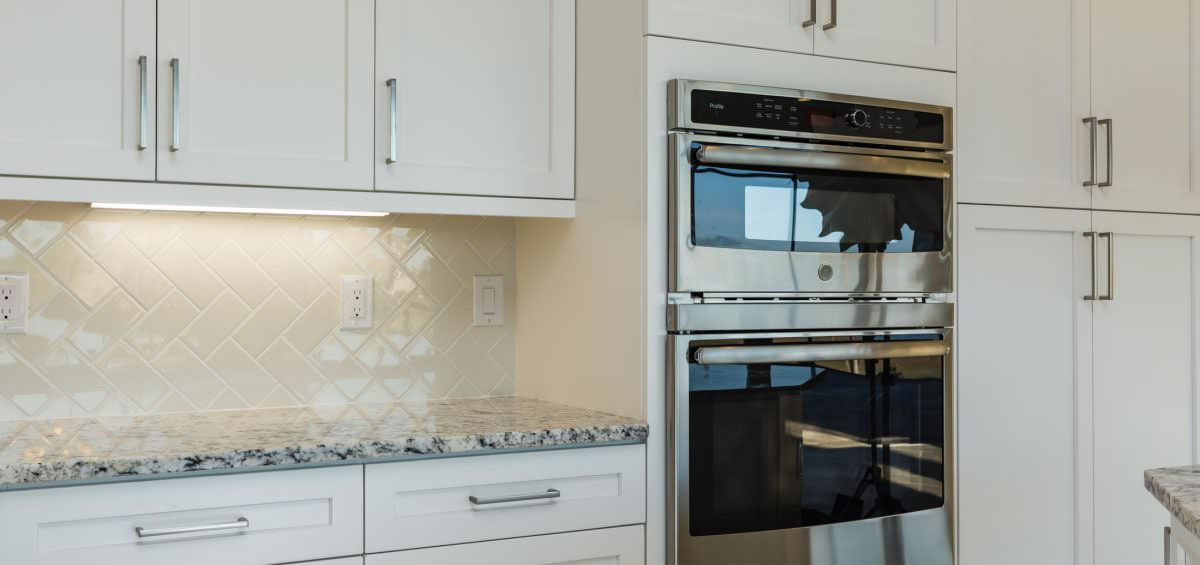 As we begin to wrap up 2018, we're getting excited to find out what's in store for next year in the world of home and design. It seems as though some of the same trends have stuck around for the past decade, like all white kitchens, stainless steel and granite counter tops, but what's going to stick around and what's going to get phased out in the New Year? In the world of appliances, it can be a competition among the reigning champions and the newcomers. Let's discuss some of the top appliance trends for 2019 and how they rank in your style book.
French Door Ovens
Beginning with kitchen design, the French door oven is making its way into more and more homes, and is projected to have a major takeover in 2019. Utilizing less space than traditional fold-down ovens, French door ovens are perfect space-savers in both small and large kitchens alike. Many designs even incorporate technology as well, including BlueTooth, making the ability to communicate with your oven from anywhere in the home a seamless process.
Modular cooking is also expected to be popular in 2019 as well. Brands, like Miele, Wolf, Jennair and Gaggenau allow you to pair devices, such as induction cooktops with a gas wok burner, next to a teppanyaki grill for even more possibilities in the kitchen.
Vintage Refrigerators
We're bidding adieu to stainless steel and welcoming in a new look for this kitchen staple. Vintage-style refrigerators are making a comeback in many homes and are available in a variety of colors to complement any Southwest Florida kitchen. Refrigerators aren't the only appliances projected to have a vintage makeover. Other appliances are joining in as well, including:
Dishwashers

Microwaves

Ranges

Ovens
Refrigerators are not only getting a color makeover, they're getting a functional one as well. As less homeowners are freezing items, the need for more freezer space is dwindling. Refrigerators now are offering more refrigeration space and less space for frozen items.
Color is making its way into the kitchen by way of bold, vibrant colors. Vent hoods and ranges, especially, are being unveiled in these new bold colors. Perhaps stainless steel isn't out yet, but experts are expecting it to be replaced in the next couple of years. Embracing vintage style; however, is exciting and it's projected that more and more homeowners will begin to incorporate this into various spaces of the home.
Technology Reigns
It's no surprise that technology is continuing to be embedded into numerous areas of the home, especially in the kitchen and bath areas. In addition to BlueTooth-controlled ovens, the ability to sync appliances to each other is going to become more common. More homeowners have embraced the beginnings of this technology, by utilizing appliances that are synced to their smartphones; however, appliances synced to each other will be on the rise in 2019. Imagine your range speaking to your microwave, coordinating cook times, or your vent turning on when the oven lets it know that it's needed. Technology is abound in the kitchen, and it doesn't stop there.
The bathroom is also getting a major tech upgrade by way of motion detecting faucets, automatic temperature controlled showers and mirror touch screens. Controlled lighting and heated flooring elements are also to be expected to gain popularity, as more and more homeowners are taking advantage of the relaxing atmosphere of the space.
Hidden Appliances
Another trend that is gaining more and more exposure throughout the years is hidden appliances. Homeowners don't want their appliances to get in the way of everyday life. Paneled dishwashers and pantries have been popular for some time now, but homeowners are now taking the need to "hide" appliances to a new level, relocating some of these kitchen staples to the pantry area. Items, like microwaves and ovens are expected to make the move to the pantry more and more in upcoming years.
What to Expect in 2019
Home design is ever-evolving, giving home builders and designers the chance to offer their clients even more possibilities for their homes than ever before. It's an exciting time that we live in and we can't wait to see even more of the neat gadgets that hit the industry in the years to come.
The experts at Frey & Son Homes are ready to get started on building you a home that will last for generations. Call (239) 495-8200 or visit www.freyandson.com to learn more today!