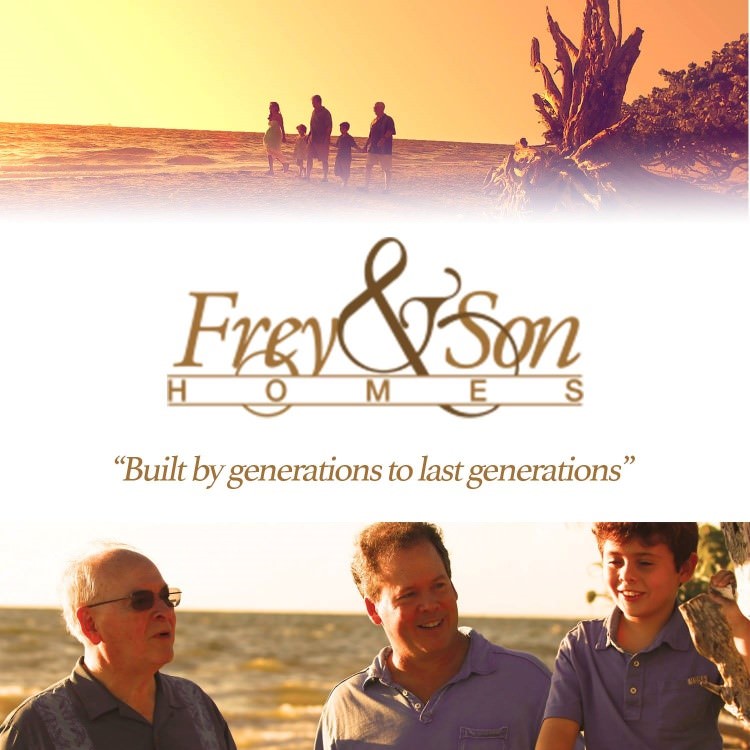 You may have heard us speak about the Frey & Son Approach at one time or another, and it's for a good reason. Our approach differs from many other home builders in the area, and we take great pride in the homes that we design and build for our loyal Southwest Florida clients. When building a new home, you may be wondering if it may be a good idea to have the plans drawn out by a designer or architect, and then bid the job out to the lowest bidder. This may seem like a good idea at the time, but you may run into more problems than you bargained for. Here's why our approach can save you from making a big mistake in the home building process. What is the Frey & Son Approach, you ask? Let us show you how we're different…
Quality of Design
Perhaps one of the most important factors when building a custom home is the design element, and it should not be taken lightly. After all, this will be the place that you come home to for years to come, so having the details exactly how you want them is crucial. Home design is a complex and demanding aspect, because your home is a direct reflection of you. Your home's design should begin with your lifestyle. What do you want to get out of your home? The materials and specifications of the design are important.
As you can see, design is a key element in building a custom home, so how does Frey & Son handle this crucial aspect of the process?
Accountability
Aside from the obvious convenience and efficiency of working with a builder who handles the design and construction under one roof, there are some important accountability issues that need to be considered. Using the "Frey & Son Approach" you will be working with the same organization in the design and building process. Should you order a certain kind of tray ceiling, cabinet modification, window placement, etc., the request is processed simultaneously. In the event that the plans aren't modified as requested, it becomes our responsibility to "do it right" at no cost to the customer. If however, you are working with a separate design firm and builder, very often modifications can fall through the cracks. When the plan is actually built, it may be missing certain details or design requests. This, in turn, becomes an issue as to whether it is the builder's fault for not building the home according to the plan or the designer's fault for not producing the plan correctly.
The Frey & Son Approach to Design
We value architects who are trained and well-versed in the art of fine architectural design. That's why we only utilize design firms that are highly-experienced in residential design. These firms have played an integral role in designing our custom homes for many years, and have come to know the Frey & Son clients and the high level of design and professionalism that goes into every home built with the Frey & Son name.
Frey & Son utilizes the expertise of a Structural Engineer, who ensures the mechanical and structural integrity of every home, so that the designer can focus solely on designing our high-end homes to perfection.
The risk that some face when opting for an architectural firm is that you may not have a clear idea about the design process and what you're actually getting in the end product.
Custom-Designed Plans
Most customers find it easier and more cost-effective to use one of our standard plans as a starting point and make modifications from that plan. However, in addition to our wide variety of standard plans, we also offer clients the opportunity to choose a custom-designed home. Clients will work hand-in-hand with the designers to craft the exact look and feel that they desire, while working alongside the experts at Frey & Son, staying up to date on all of the intricate details of the project.
Why Frey & Son?
When you choose an architect/bid situation, you're making a large (often times up front) investment in a home that you have no idea how it will look when finished. Plus, if you're dealing with the lowest bidder, you may be disappointed in the overall workmanship, quality and communication about your project. With Frey & Son, you can expect:
No upfront investment

for a modified standard plan

Expert supervision of your project from start to finish

High-quality design

Top-of-the-line materials

Financial stability

The trusted Frey & Son name
So, why Frey & Son Homes? Not only do we design and build some of the very best homes in all of Southwest Florida, we're a trusted name in the industry. We've been building in Southwest Florida for a long time, which means that we've perfected our approach throughout the years and expect to keep improving as the decades pass. You can rest assured that your project is in good hands with Frey & Son Homes.
Get started with our team! We're ready to build you the perfect home in paradise! Call (239) 495-8200 or visit www.freyandson.com to learn more!