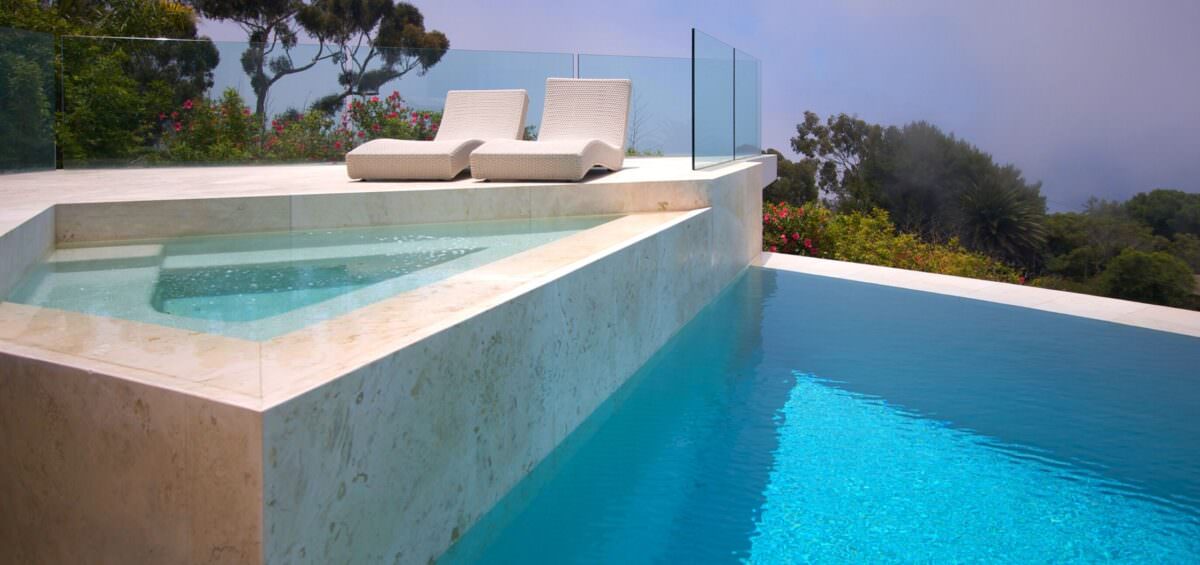 As we continue to spend more time at home, homeowners are searching for ways to upgrade their space. Perhaps your home has gotten a makeover this summer and you're looking for more upgrades to make or maybe, it's time to start thinking about building from scratch and finally getting the home you've always wanted. No matter what your situation may be, you may want to direct your focus to your outdoor living area…namely, the pool. Your pool has the potential to be a focal point of your home, not to mention a place where you can relax and unwind, or even entertain guests. When it comes to your pool area, let's think upgraded style.
Here are our favorite upgraded pool designs and trends…
Designer Pools
Designer pools, otherwise known as architectural pools, possess definitive features that add a modern appeal to any outdoor space. Design elements of this specific pool type include:
Definite, clean lines

Geometric shapes

Sophisticated style

Built-in lounge areas

Water features
Elegant style and structure make designer pools (and spas) a step above traditional pool areas. Most often, these types of pools are custom-designed to replicate the custom features that can be found in the home, like materials and color schemes, making these pools truly remarkable.
Infinity Pools
Also referred to as zero or negative edge, infinity pools are unmistakably recognizable almost instantly, due to their unique design. Infinity pools give off the illusion of a sheet of water dropping seamlessly off the edge of the property, creating a waterfall effect. This design in and of itself is what makes this type of pool highly requested by many homeowners who wish to add a touch of wonder to their space. In short, infinity pools create an alluring focal point that is sure to impress.
Natural Pools
Elements of nature come together to create the majestic natural pool. Since the early 1980's, natural pools have been on the rise, originating in Europe. In the age of modernism, the natural pool has begun to slowly take a backseat to infinity pools and other designer options; however, it still remains a popular option among homeowners who wish to add European details into their space. Advantages of natural pools include:
Self-cleaning

Multiple design options

More privacy
Some homeowners opt for a free-form design, which includes a more rustic style, featuring boulders and other natural additions (a private waterfall perhaps). Others prefer to modernize this pool type with clean lines and an elegant, sleek (yet simple) design, making this type of pool able to blend in with virtually any style of home.
Other Pool Options
Depending on your wants and needs, other pool styles are available to work with your lifestyle. These include:
Lap pools

Kiddie pools

Beach entry pools

Pool/spa combinations
Whether you're looking to create a lush tropical oasis or you want your pool to blend in effortlessly with the style of your home, there's a pool design out there that will work for you. Plunge into the cool water and relish in the beauty of our area in your ideal Southwest Florida home, complete with the perfect pool
Frey & Son Homes is ready to help you build the perfect home (and pool!) in Southwest Florida! Call (239) 495-8200 or visit www.freyandson.com to learn more.