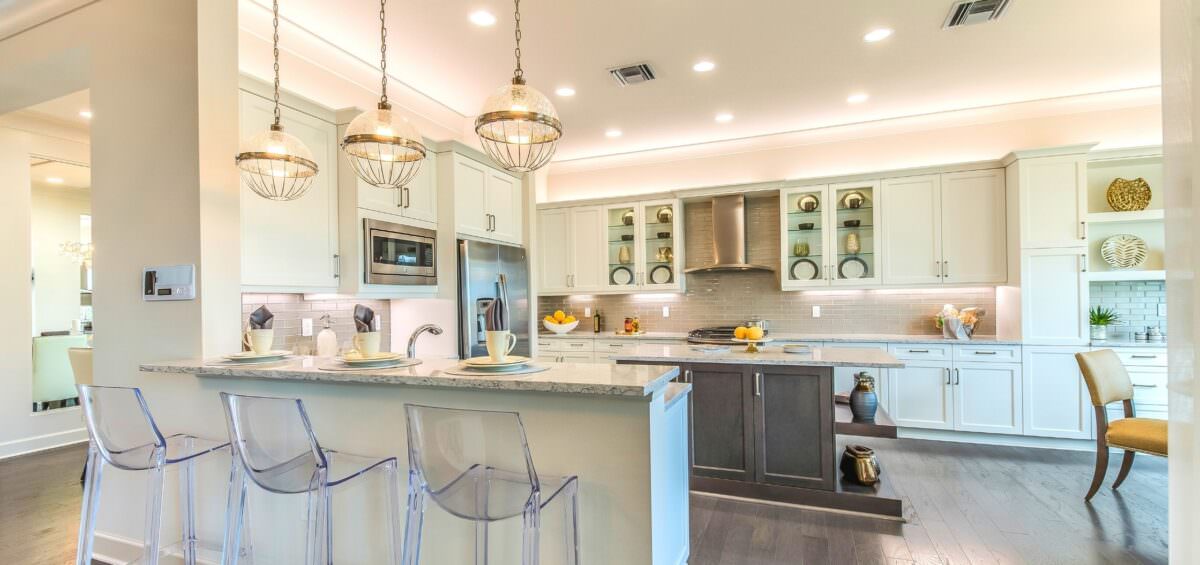 Buyers typically look for some of the same things when searching for the ideal Southwest Florida home. Whether you're building a new home from the ground up or you're browsing the local real estate market, one room in the home has the potential to make or break a sale or a home project. We're talking about the kitchen, and it has been a long-standing space in the home that calls for maximum functionality and increased comfort, making it the ideal location for all types of gatherings. From midnight snack runs to small in-home soirees, the kitchen has a big job to do and if it's not designed and functioning properly like it should, it can be a cause of added stress. Not only do you need the room to be able to entertain if needed and the versatility to create culinary masterpieces, your kitchen needs to encompass that which you desire in the space.
So with the dawning of a new year, it may be time for a kitchen redesign. Here are some of the top kitchen designs for 2021.
Marble Reigns Supreme
Marble has been subtly making its way into more cracks and crevices of your home than you would have ever imagined. From flooring to bathroom tile, backsplashes to wallpaper, the marble design just keeps gaining in popularity, and when it comes to your modern kitchen, marble complements this look perfectly. Imagine an oversized island, or better yet, a double island in the center of your kitchen donned in cascading marble. Nothing emits a level of luxury quite like marble and in your new kitchen, experts say it's a must.
Double Trouble
Speaking of double islands…
Oversized islands have been a staple in the modern kitchen for years now, but with new trends emerging, builders and designers have taken the island's functionality a bit further. Double islands not only create a functional space, they also look sublime, making them must-have additions to building plans all over the globe. Not only do you get the space you need in your ever-expanding kitchen, you're able to entertain guests safely (six feet apart!) and successfully without getting in the way of cooking areas. Plus, the extra storage located underneath is always handy to have in this space.
Built-In Pantries
In the age of organization, more and more homeowners are seeking ways to make their space more functional, and this includes more ways to keep everything securely in its place. From closet configurations to built-in shelving in the office, organization is key, and perhaps one of the best places to stay organized in the home is the kitchen. Large, built-in pantries are now staples in the home and feature various shelves, rotating trays and more to help keep all your kitchen items in one place and easily accessible. Many builders are including these built right into the wall, resembling the rest of the cabinets to help them blend in to the space better for a cleaner, more seamless look.
More Popular Kitchen Trends for 2021
As you look to design the perfect kitchen in the new year, it's important to work with a team that can build these looks right into the plans for your home with perfection, so that when you see your kitchen for the first time, you're beyond impressed. Other popular kitchen design trends for 2021 include:
Wood cabinetry

Dramatic dark colors

Soft touch appliances/cabinet doors

Large pendant lighting
When you're building the ideal kitchen for your space, keep these new trends in mind to create the ultimate kitchen for your home. After all, the kitchen is more than just a room in your home. It's a meeting space for all to congregate and enjoy a common love of delicious cuisine.
The Frey & Son team can't wait to build you the perfect home, complete with a beautiful, modern kitchen! Call (239) 495-8200 to learn more today.