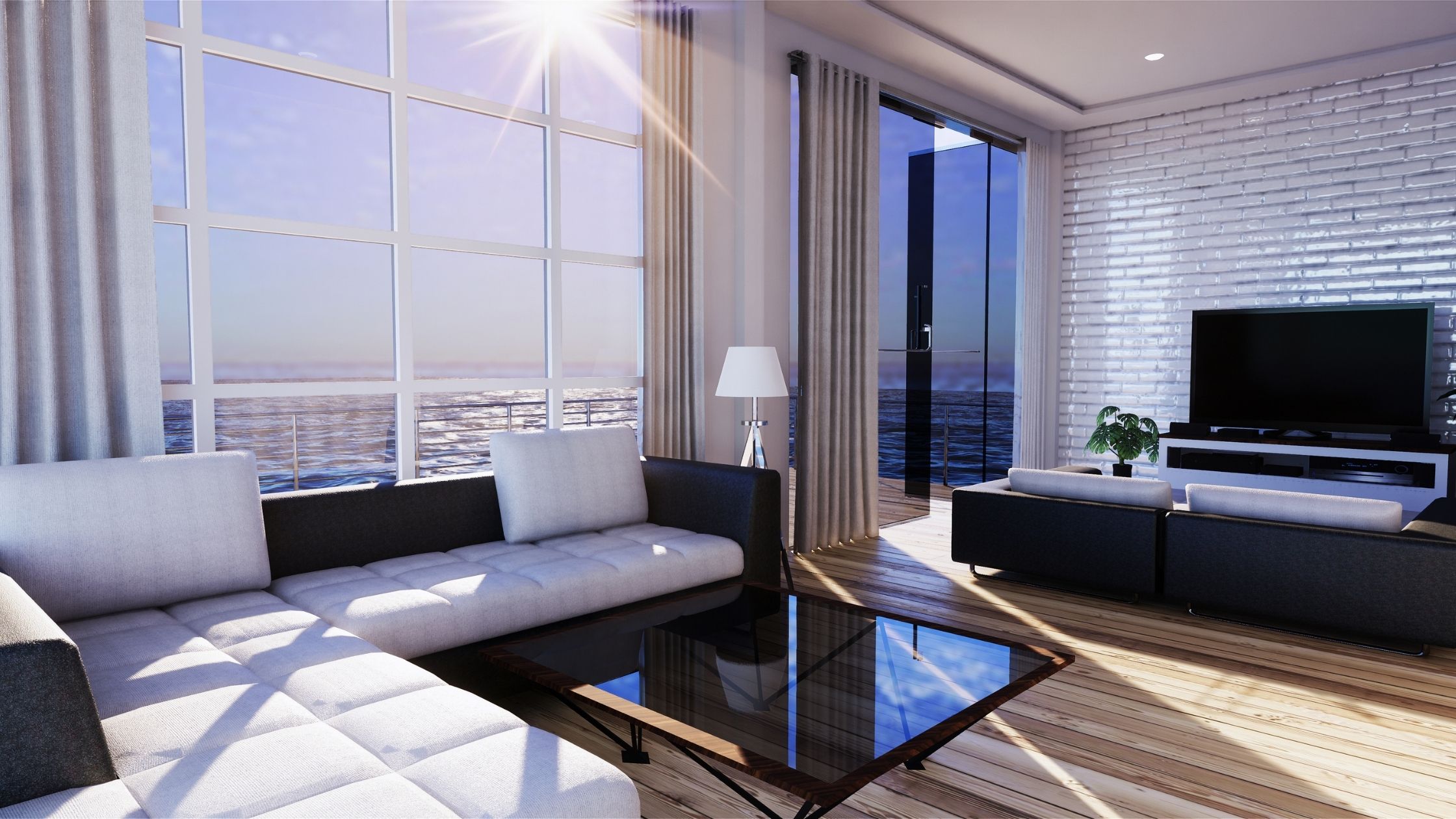 As you take in your Southwest Florida lifestyle, from the sun-drenched palm trees to the tranquil sea breezes, relaxation comes naturally. And when you're designing your new home in paradise, it helps to be able to enjoy your surroundings to the fullest. That's why more builders and designers are choosing to include an abundance of windows and doors to let more natural light in, not only to illuminate the space more efficiently, but also provide a better view of our exceptional tropical backdrop. Although more windows and open spaces will bring a fresher feel into the home, you're able to enhance this feeling by incorporating some key elements. So, let the light in! Here's how to maximize natural light in your home.
Furniture Set-Up
Whether you have many windows accenting the space or just a few, it helps to enhance the light in the room by angling your furniture toward the windows. As you do this, the focal point becomes the windows, which let in more light, making the room appear brighter, even if there aren't a lot of windows in this particular space. Add more illumination by strategically placing mirrors in the space to capture more natural light, reflecting it throughout the room.
A Light & Neutral Color Palette
Light colors on the wall, in addition to more neutral furniture will help you achieve a bright and welcoming look in any space. Think natural vibes for your home with pops of color throughout to really accentuate the room. Stick to a color palette of neutrals, like ivories, gray tones and light brown hues for a more natural feel, and include plant life throughout to really bring it all together. This practice works, whether or not the space you're decorating is naturally filled with light, making it perfect for any type of home.
Airy Window Treatments
Even though you'll want to let the light in most of the time, there will be instances where you'll want a bit of privacy, which means that you'll need some window treatments throughout your home. Instead of heavy draperies or cumbersome blinds, we recommend donning your windows with light and airy drapery panels in neutral tones as to not take away from your breath-taking views and to not mask the light coming into the room.
Other Helpful Practices
Maximizing the natural light in your home is easy, no matter which room you're designing. Although it does help to build more windows into your space while working with your builder, keep some other helpful practices in mind to enhance your home's overall feel, such as:
Less overhead light fixtures. Focus instead on light from your windows, paired with recessed lighting.

Choose light rugs and flooring materials.

Add in a wide, white trim around your windows to accentuate them.

Minimize décor, allowing your windows to take center stage.
In implementing these ideas into your space, you'll be able to make the most out of your views, whether they're pristine preserve views, a beachfront backdrop or a glimpse at our immaculate sunsets. It's also best to work with a builder who can maximize your home's location on the lot, taking advantage of the best views possible. When you want to enjoy your life in paradise, your home plays a big role in this, so be sure to design it accordingly.
Frey & Son Homes has been building outstanding homes in our area for generations! Call (239) 495-8200 or visit www.freyandson.com to get started.