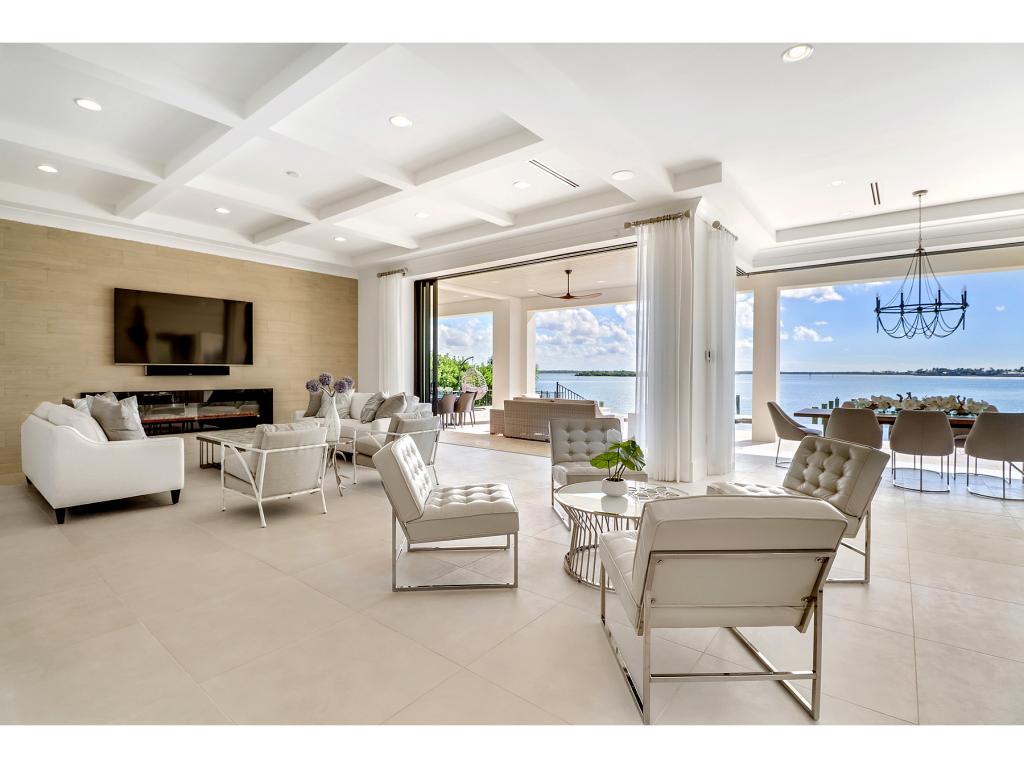 Your home's indoor and outdoor spaces are often considered separate areas. This can make your home feel smaller, and you can miss out on valuable outdoor time. However, you can link these spaces and create an aesthetically pleasing environment that lets you enjoy nature from the comfort of your cozy home.
Implementing indoor-outdoor space ideas doesn't have to come with a significant budget. But it can blur the lines between the inside and outside, making it seem like one endless space. At Frey & Son, we understand how to maximize your space, bringing the beauty of the outdoors into the comfort of your home. Consider these indoor-outdoor connection tips when building and decorating your home. 
Use Similar Colors and Finishes 
Using the same color and finish in both spaces creates a seamless appearance between the interior and exterior. This technique can make each space feel like an extension of the other.  
Interior floor finishes can carry through to your deck or porch as long as they are suitable to survive in the outdoor weather. Just be mindful of finishes that may create a hazard when wet. 
Swap a Solid Wall for a Clear Wall 
Connecting to the outdoors is easier when you can enjoy the view. Rather than using solid walls, consider the benefits of a large, contemporary glass door in your space. 
A sliding door will allow you to bring more light into your home, and you can control how far the door opens. French doors add a flare of sophistication to any space, letting in twice as much light. 
Carry the Furniture Layout Outside 
You can arrange your patio furniture to complement your interior seating. This strategy blends the two spaces to create one large room rather than two separate areas. Both areas can be used for large gatherings, like birthday parties or family picnics. 
Include Lighting for Ambiance 
The lights don't have to go out when the sun goes down. You can connect the great outdoors and your indoor living space by installing accent lights. 
Accent lights can be installed in places like: 
Deck stairs 

Pools 

Sidewalks or pathways

Posts
These lights create a balance between total darkness and luminous floodlights. This means that you can enjoy an intimate outdoor space as comfortable as your living room. 
Blend Spaces Using Potted Greenery 
Regardless of their location, plants add tranquility and relaxation to any space. Adding potted plants in interior and exterior spaces creates a blissful visual connection. You can use smaller greenery along railings or hang potted plants to add the same benefits as larger pieces with less space required.   
Create an Outdoor Room 
The right furniture can make bringing indoor-outdoor space ideas to life more effortless. Made-for-outdoor use lounge seating is durable enough to stand up to the elements while creating a beautiful connection between your indoor and outdoor living spaces. 
Corner sofas and coffee tables come in various colors, patterns, and sizes, allowing you to match your furniture to your style. A fully furnished outdoor room can feel just like any other room in your home, effectively blurring the lines between inside and outside.
Bring Your Indoor-Outdoor Space Ideas to Life 
Having a solid indoor-outdoor connection can enhance your home and your health. At Frey & Son Homes, we can make your indoor-outdoor ideas a reality. 
We have been building homes in Southwest Florida since 1972 and have an eye for bringing indoor and outdoor spaces together. Contact us today to learn more about our services and how we can help with your extension or new construction.