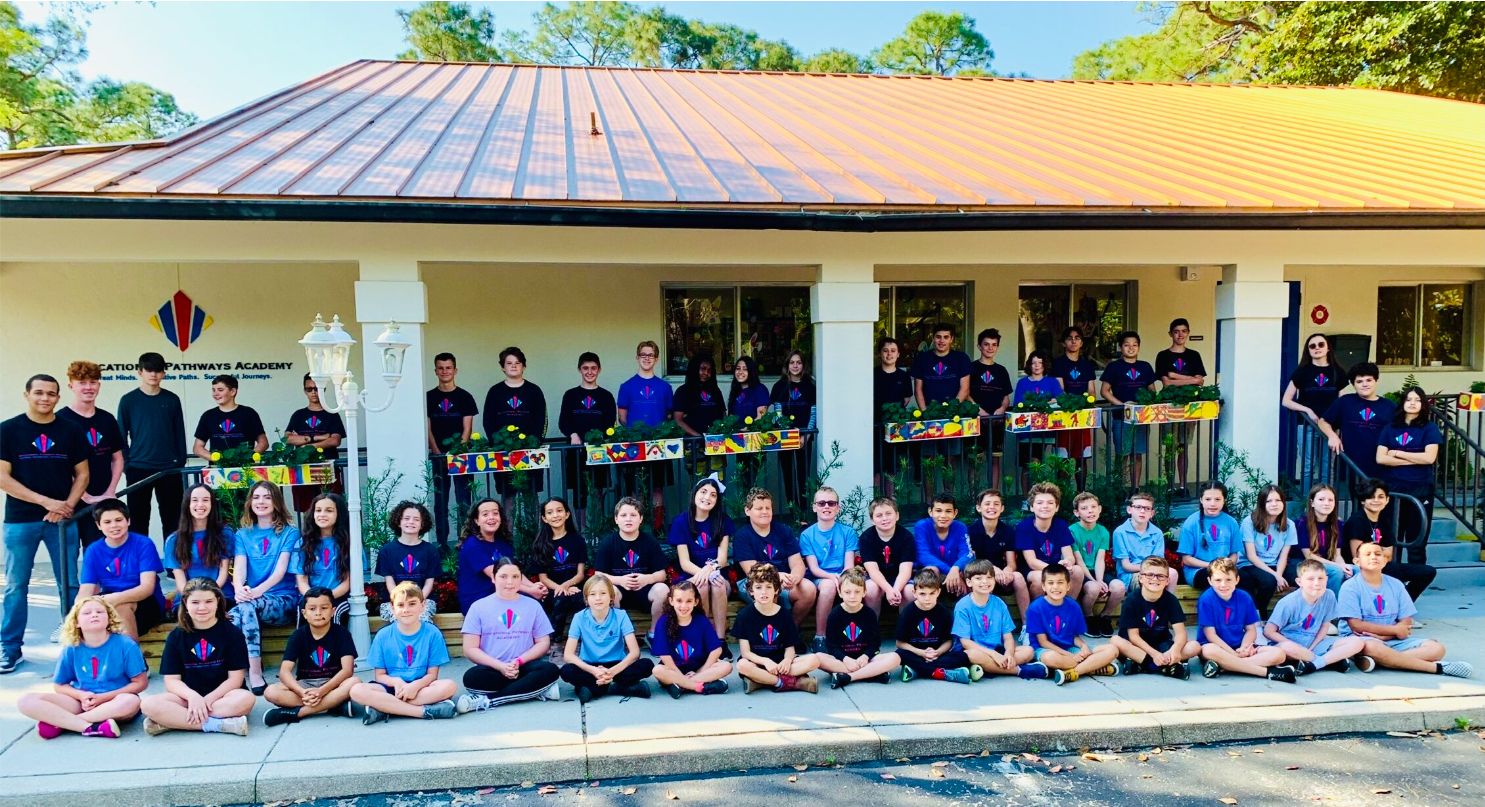 Frey & Son Homes to Honor Family Matriarch in Naples School Renaming Ceremony
Educational Pathways Academy set to rename school after Doris Frey on January 21st, 2023
NAPLES, Florida, Jan. 18, 2023 – Frey & Son Homes (www.freyandson.com) announced today that it will honor family matriarch, Doris Frey, in a private campus dedication ceremony to take place on January 21, 2023 at Educational Pathways Academy (www.educationalpathwaysacademy.com), 1351 Pine St., Naples, FL 34104. The school's founding campus, located near Davis and Estey Boulevard, will be named after Mrs. Frey, commemorating her faithfulness, service and generosity to children and education during her lifetime. The renaming is an act of gratitude by Educational Pathways Academy for recent donations of $1.6 million by Frey & Son Homes President, Barry Frey, and his wife, Grace.
Founded in 2017, Educational Pathways Academy (EPA) quickly became a beacon of hope in the Naples, FL, community, providing students with dyslexia and other learning disabilities with high-quality, faith-based educational opportunities. The school provides innovative academic, social and emotional programming for its students, centering its mission on the Bible verse Ephesians 2:10: "For we are God's Masterpiece.  He has created us anew in Christ Jesus, so we can do the good things he planned for us long ago."
With a rapidly growing need to support youth development and education in this specialized area, EPA quickly outgrew its founding campus location, and has also recently purchased a second campus in Estero, Florida near Coconut Point.  Barry and Grace Frey's generosity has enabled the school to not only establish a permanent, secure sanctuary for students at the Doris Frey Campus in Collier County, but also expand its mission and services northward across Southwest Florida, now into Lee County.
Barry Frey is the President of Frey & Son Homes, a Southwest Florida home-building company that has been a staple of the area for five decades. Frey & Son Homes has built over 5,000 homes throughout the Southwest region of the Sunshine State and is known for crafting custom homes that exhibit exceptionally current designs and unwavering attention to detail, including numerous residences in Naples, Cape Coral, and Marco Island.
Barry is not just passionate about providing customers with exceptional homes, but he is equally passionate about education, which stems from his family's close ties to the field. Barry's mother was a teacher, his father was a college professor, and his grandfather was a principal and school superintendent. Barry's daughter also attends EPA, which made his decision to contribute to the school that much easier.
Barry Frey speaks about the significance of the campus dedication:
"The Frey family has deep roots in education, and we believe it is the foundation of success on so many levels. We work hard every day to exemplify this by supporting, training and furthering the education of our Frey & Son Homes team members, and doing our part to make quality education accessible in our community," he says.
The renaming ceremony will take place on January 21st, 2023, and will be attended by both Barry and Grace, as well as several other family members and close friends. EPA's Board of directors, faculty and staff will also be in attendance.
Molly Arthur, Founder and Head of School at Educational Pathways Academy shares:
"When many of our students arrive at EPA for the first time, they often require emotional and social healing before they are ready to re-engage academically. In fact, our students have unique talents and capabilities, and many are gifted, despite processing language differently. Our staff specializes in holistically nurturing all aspects of our students' well-being, delivering the emotional, social, and academic services they need to be successful. Today, our ability to fulfill our mission into the future has been dramatically impacted by the Frey family's generosity."
While the primary purpose of the event is to pay homage to the matriarch of the Frey family, it also represents a significant step forward in the growth of Educational Pathways Academy. Thanks to the contributions of Frey & Son Homes, EPA is expanding its mission to serve both current and future students across Southwest Florida, now from two permanent sanctuaries at the Doris Frey Campus (Collier County) and North Campus (Lee County).
About Frey & Son Homes
Founded in 1972 by Doris and Bill Frey, Sanibel Homes was launched on the eponymous Sanibel Island. When their son Barry joined in 1985, Frey & Son Homes was born, and since then, the team has been building homes for clients all over Southwest Florida, from Marco Island to Cape Coral, earning rankings such as America's Best Builder and being honored as one of the nation's 50 leading luxury builders. Frey & Son Homes continues to impress clients, making them a staple in the Southwest Florida home-building industry.
About Educational Pathways Academy
Educational Pathways Academy is a private, Christian school designed for students with language-based learning disabilities, such as dyslexia. The school's founding was inspired by "Masterpiece" Bible verse Ephesians 2:10. EPA ultimately seeks to provide permanent places of refuge, protection and safety for students with learning differences, many of whom have been underserved and misunderstood by past academic experiences. In the past 6 months, EPA has dramatically strengthened the future of students across Southwest Florida with the purchase of two campuses (one in Collier County and one in Lee County), with thanks to the generosity of Barry and Grace Frey and Frey & Son Homes.