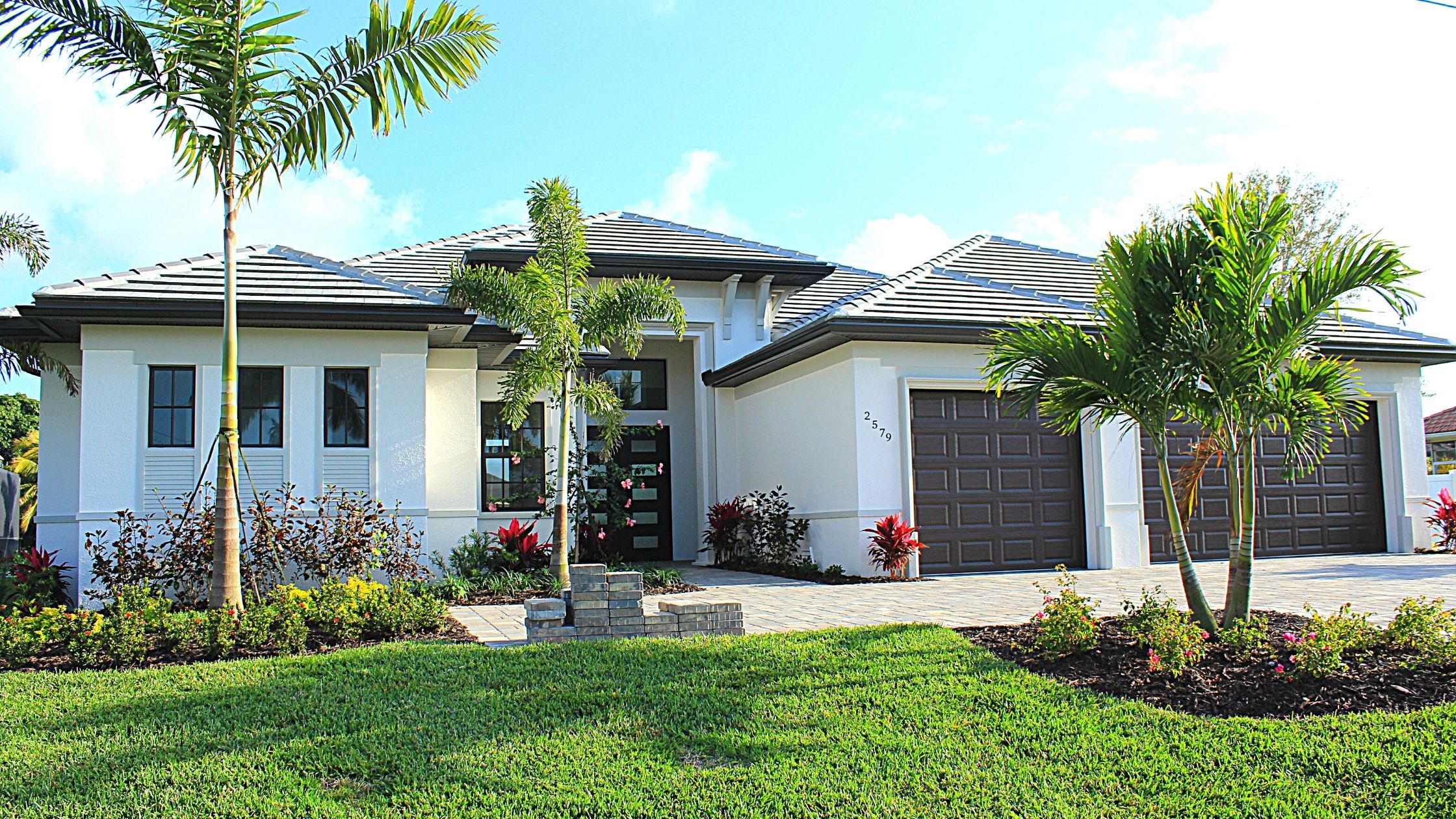 Naples, Florida, February 24th, 2022—Popular Southwest Florida home builder, Frey & Son Homes, announces that its first model home center in Collier County is set to open to the public next month. Primarily building in Cape Coral and on Marco Island, the builder has continued to expand throughout the region, showcasing an inventory of homes that is impressive, timeless and adorned with Frey & Son signature touches throughout.
Located at 4472 Pine Ridge Road in Naples, this Palm Beach 2 model boasts three bedrooms, three bathrooms and 2,681 sq. ft. of air-conditioned living space. High ceilings, clean lines and contemporary features can be enjoyed in this home, in addition to a spacious Great room, study, garage and state-of-the-art kitchen. Stainless steel appliances, designer selections, tile flooring and more elegant style can be found inside and out, as well as a fabulous outdoor living area with a pool, spa and a summer kitchen, making entertaining a breeze. Additional Frey & Son signature features can be found, including walls of windows to accentuate the outdoor living area, an open span lanai with no columns and upscale design enhancements throughout. The team is planning on unveiling this model center to the public next month.
Frey & Son Homes (www.freyandson.com) has been a pioneer in the Southwest Florida home building industry for the past 50 years. Utilizing signature features, found only in its homes, as well as groundbreaking innovation and cutting-edge building techniques, the homes that reside in the Frey & Son inventory are some of the most spectacular in all of Southwest Florida. Barry Frey, President of Frey & Son Homes, speaks about the team's newest model center and its prominent location.
"Southwest Florida, primarily Naples, is growing in popularity more and more as the years go by with both seasonal and full-time residents interested in this area. We have built such a presence throughout the region that it was an easy decision to design a model home in one of the most highly desired areas in Naples. I am looking forward to revealing this home with all of its fantastic features, further showcasing what the Frey & Son name is capable of in the industry," he says.
About Frey & Son Homes
Founded in 1972 by Doris and Bill Frey, Sanibel Homes was launched on Sanibel Island. Joined by son Barry in 1985, Frey & Son Homes was born, and since then, the team has been building homes for clients all over Southwest Florida, from Marco Island to Cape Coral. Earning rankings, such as America's Best Builder and being honored as one of the nation's 50 leading luxury builders, Frey & Son Homes continues to impress clients, making them a staple in the Southwest Florida home building industry.
To learn more about Frey & Son Homes, please call (239) 495-8200, email info@freyandson.com or visit www.freyandson.com.