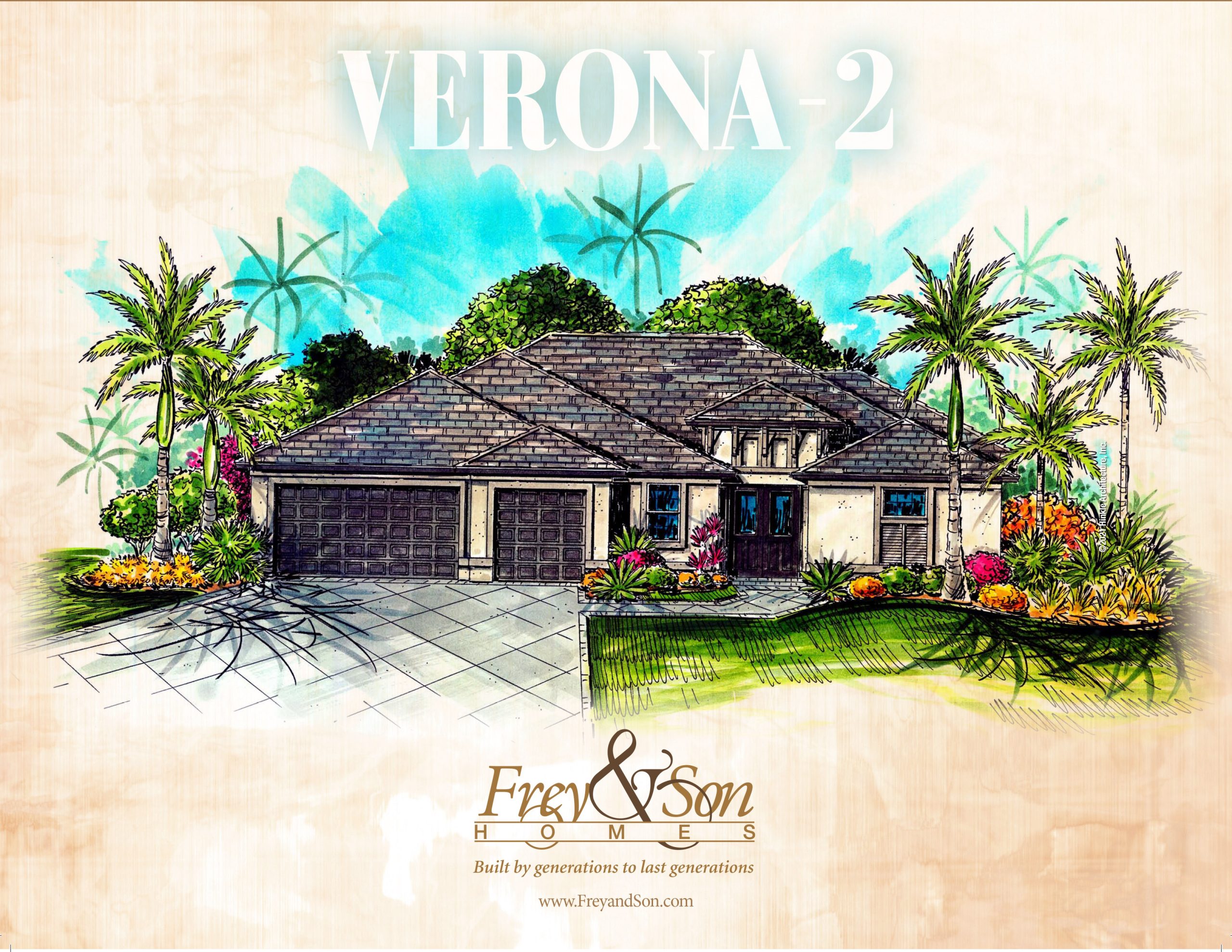 Cape Coral, Florida, July 12th, 2022—Southwest Florida home builder, Frey & Son Homes, announces that a new Cape Coral inventory home is expected to be completed in the upcoming months. The home builder occupies a large presence in the area, having built over 5,000 homes from Cape Coral to Marco Island in its 50 years serving Southwest Florida.
Located at 2031 NW 32nd Ct. in Cape Coral, the Verona 2 model boasts four bedrooms, three bathrooms and 2,361 sq. ft. of air-conditioned living space. In addition to several signature Frey & Son touches throughout, including an open span lanai with no columns and premium features, this home includes a study/den area, as well as a three-car garage, stainless steel appliances, a spacious kitchen, and a beautiful outdoor living area. The exterior employs modern "clean lines" for a contemporary Southwest Florida appearance. This waterfront home showcases an intersecting canal view, Gulf access through Matlacha Pass, and would be perfect for full-time or seasonal residents to spend their time in paradise. The expected completion date for this home is January 2023.
The Frey & Son team has recently unveiled its Cape Coral model home center, located at 2579 Surfside Blvd., a Palm Beach 2 model, and 2575 Surfside Blvd., a Key Colony model. This center is open Monday through Saturday from 10 a.m. until 5 p.m. and Sundays from 11 a.m. until 5 p.m., and features breathtaking designs, upscale features, clean lines and modern luxury throughout. For over 50 years, Frey & Son (www.freyandson.com) has been a trendsetter in the industry, and over the years, it's easy to spot a Frey & Son home, marked by expert craftsmanship, keen attention to detail and a level of luxury that is incomparable.
President, Barry Frey, speaks about the new Cape Coral inventory home and the team's plans for the future of home building in the Cape.
"As Cape Coral is becoming more populated, more homes need to be built to accommodate the influx of residents. It's important to keep quality a high priority, maintaining a level of excellence that Cape Coral buyers are looking for, and this inventory home showcases this perfectly. I'm excited to unveil this home to the public in the next couple of months, and even more excited to bring more quality homes to new and existing Cape residents," he says.
About Frey & Son Homes
Founded in 1972 by Doris and Bill Frey, Sanibel Homes was launched on Sanibel Island. Joined by son Barry in 1985, Frey & Son Homes was born, and since then, the team has been building homes for clients all over Southwest Florida, from Marco Island to Cape Coral. Earning rankings, such as America's Best Builder and being honored as one of the nation's 50 leading luxury builders, Frey & Son Homes continues to impress clients, making them a staple in the Southwest Florida home building industry.
To learn more about Frey & Son Homes, please call (239) 495-8200, email info@freyandson.com or visit www.freyandson.com.