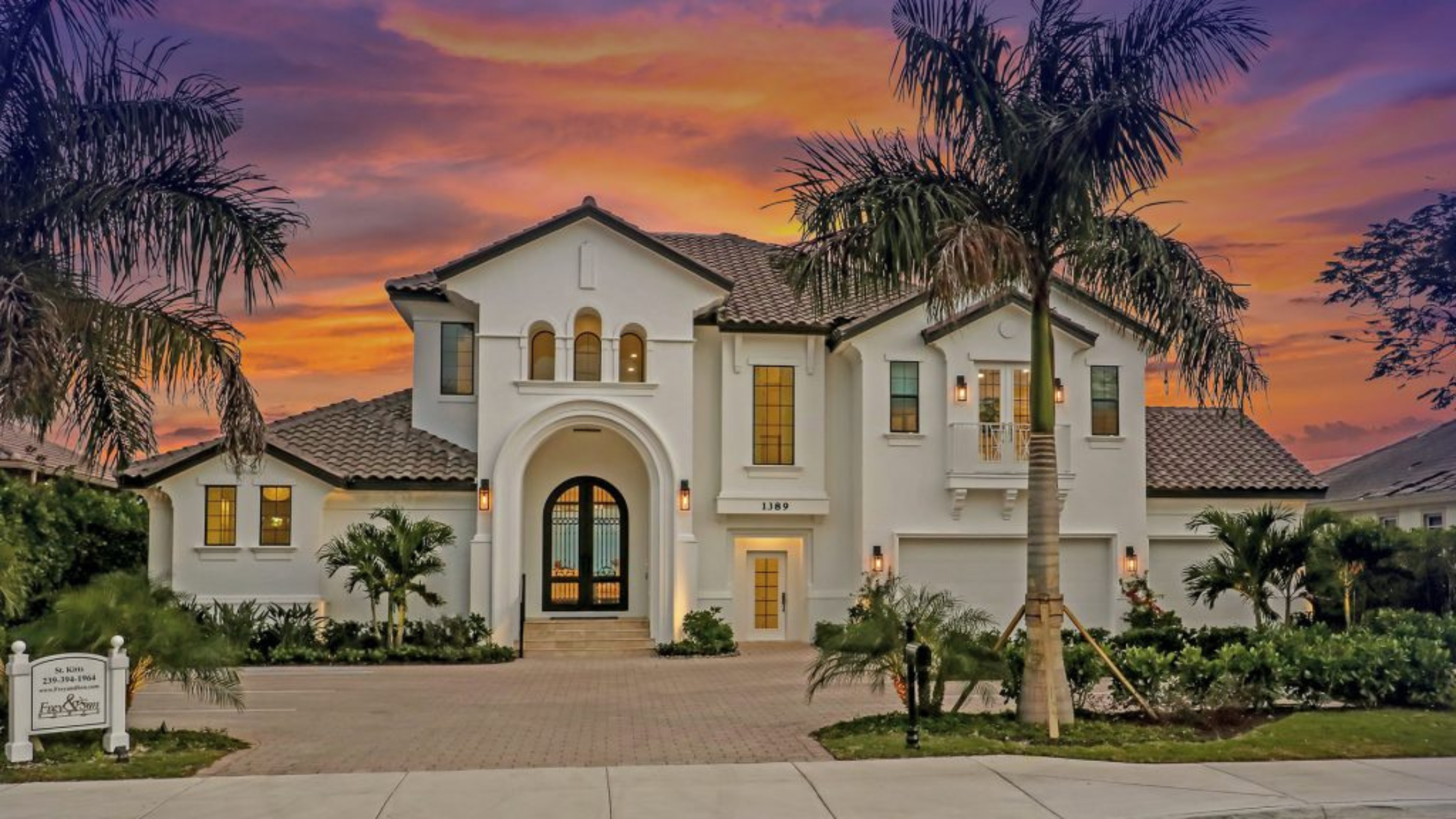 When building a new home, oftentimes we tend to devote our focus to what lies inside; however, your home's exterior is equally as important. Designing the space you've always envisioned takes planning, the right builder and an idea of what you want to create, and it all starts from the outside. From the color to all of the details captured on its façade, your home's exterior sets the tone for your entire living space. When it comes to making a statement with your home and showcasing major curb appeal, here are some of the exterior home design elements that are trending right now.
Coastal Radiance
Living on the coast, it's just natural to desire a coastal feel for your home from the inside out. Bright white paint, board and batten accents, and stucco adorn many homes here in Southwest Florida, offering a clean, modern look that's sought after by many. Try adding a pop of pastel or even a rich, vibrant hue to your shutters and trim to really stand out on the street. Balconies, adorned with tropical plant life, also deliver that coastal feel many homeowners are seeking in this particular area.
Modern Minimalism
Many Southwest Florida homes exhibit an upscale air about them, made possible by minimalistic exteriors. From large expanses of windows and sliders to let the light into the home, to high ceilings and glass railings on multiple balconies, the modern minimalist house is simplistic, yet intriguing. Many designers and builders seek to warm this type of space up with wood accents to add a level of texture and interest to areas, especially those around the front door and outdoor living spaces.
Cement Accents
Cement siding is also having a major moment in 2022, due to its simple, modern feel combined with its durability. Not only is our area prone to extreme weather, including rain, wind and humidity, the excessive sunlight can take its toll on many building materials. Fortunately, cement siding is more resistant to this than other types of materials, as well as incredibly beautiful, especially if you're looking to create a contemporary look for your home.
Other Hot Exterior Home Trends
The home building and design industry is ever evolving, but when it comes to your home's exterior, we always recommend going for a timeless appeal. After all, it's far easier to replace smaller items in the home when they become outdated, as opposed to revamping your entire home's exterior. Other elements and design practices you may want to consider for your home include:
Bahama shutters
Tropical foliage
Metal roofs
Building up, not out
Choosing a design and committing to it is made easier by partnering with a builder who understands the area and your vision. If you are working with the right custom builder teamed with a talented architect, the builder can modify the exterior to meet the desired tastes of the customer. Often by showing the builder and architect pictures of other homes, the architect can come up with the desired look at minimal design effort and cost. This is certainly less expensive than starting from scratch and building an entirely custom home.
With the regular influx of residents as time goes on, more homes are being built, and many builders are choosing to accentuate these homes with contemporary appeal, utilizing sustainable materials, eye-catching color palettes and durable elements that can withstand our sub-tropical climate. When it comes to your Southwest Florida home, whether you're building a new space or remodeling an existing home, pay attention to the trends that have been gaining popularity over the years. More importantly, be sure that you're working with a builder who can bring your dreams of living in paradise into fruition, so that you're able to enjoy your Southwest Florida lifestyle to the fullest.
Frey & Son Homes has been building homes across Southwest Florida for over 50 years! Call (239) 495-8200 or visit www.freyandson.com to get started.