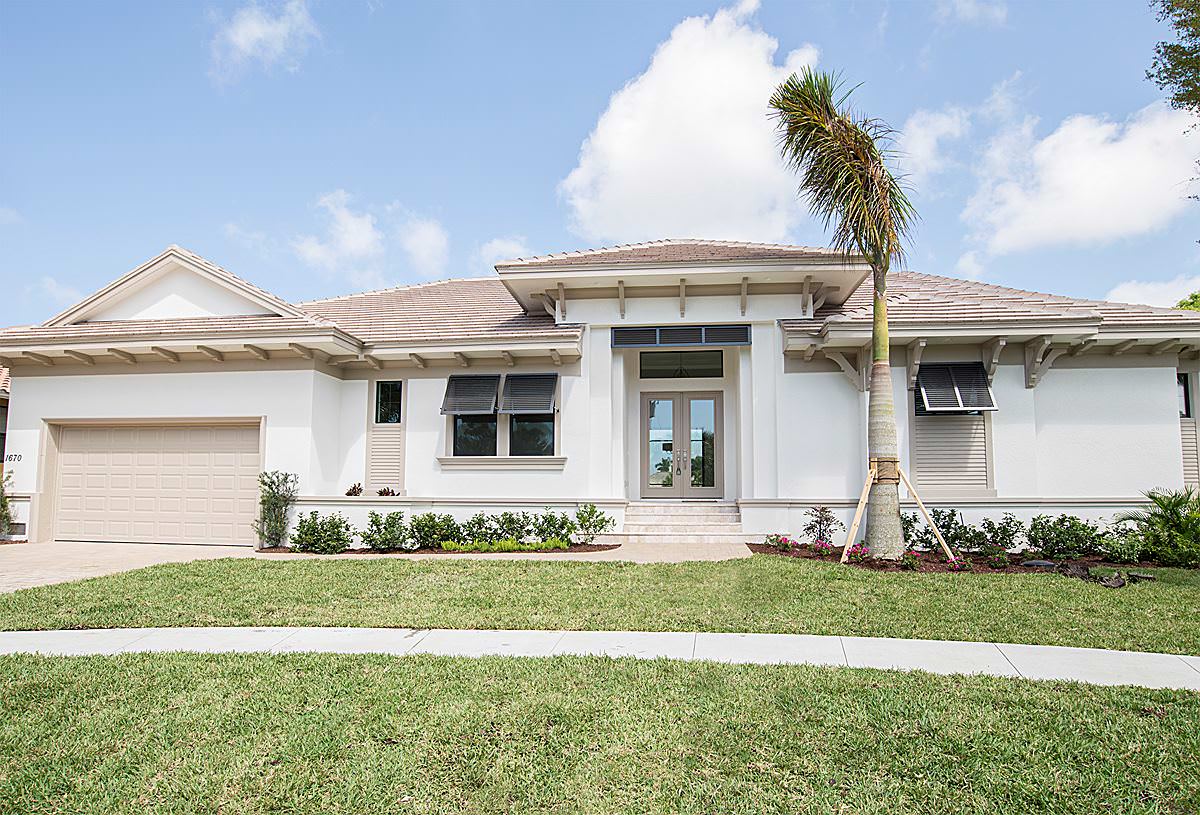 Marco Island, Florida, October 28th, 2021– Southwest Florida home builder, Frey & Son Homes, announces that the team has recently begun construction on a new inventory home on Marco Island. The home builder has a celebrated reputation in the industry with over 49 years of experience building elegant homes to appeal to the discerning Southwest Florida buyer.
Located at 1114 Shenandoah Court on Marco Island, this four-bedroom, four-bathroom Begonia model will feature 3,048 sq. ft. of air-conditioned living area, plus a study, expansive great room and garage. With exceptional views of the Shenandoah Waterway, this home will accentuate these views by way of walls of glass along the rear of the home, as well as a stunning outdoor living area, complete with a pool, spa and outdoor kitchen, perfect for entertaining. High 11′ 4" ceilings in the main rooms, along with designer elements and clean lines throughout enhance the contemporary feel of the home. Its spacious kitchen will showcase an oversized center island, as well as stainless steel appliances, granite counter tops and many more luxury materials throughout. This home is expected to be completed in the fall of 2022.
Frey & Son Homes (www.freyandson.com) builds homes that radiate style, class and a timeless design that can't be rivaled. Through superior building techniques, the latest technological advancements and a team that places the client at the forefront of its mission, Frey & Son has remained one of the top builders in the area for decades. Barry Frey, President of Frey & Son Homes, speaks about its newest project on Marco Island.
"This home is located in a fantastic area, with access to crystal clear waterways, perfect for fishing, boating and enjoying the Southwest Florida sights. With all of the fabulous features you're able to find inside this home, we're looking forward to showcasing it among our inventory in the new year," he says.
About Frey & Son Homes
Founded in 1972 by Doris and Bill Frey, Sanibel Homes was launched on Sanibel Island. Joined by son Barry in 1985, Frey & Son Homes was born, and since then, the team has been building homes for clients all over Southwest Florida, from Marco Island to Cape Coral. Earning rankings, such as America's Best Builder and being honored as one of the nation's 50 leading luxury builders, Frey & Son Homes continues to impress clients, making them a staple in the Southwest Florida home building industry.
To learn more about Frey & Son Homes, please call (239) 495-8200, email info@freyandson.com or visit www.freyandson.com.