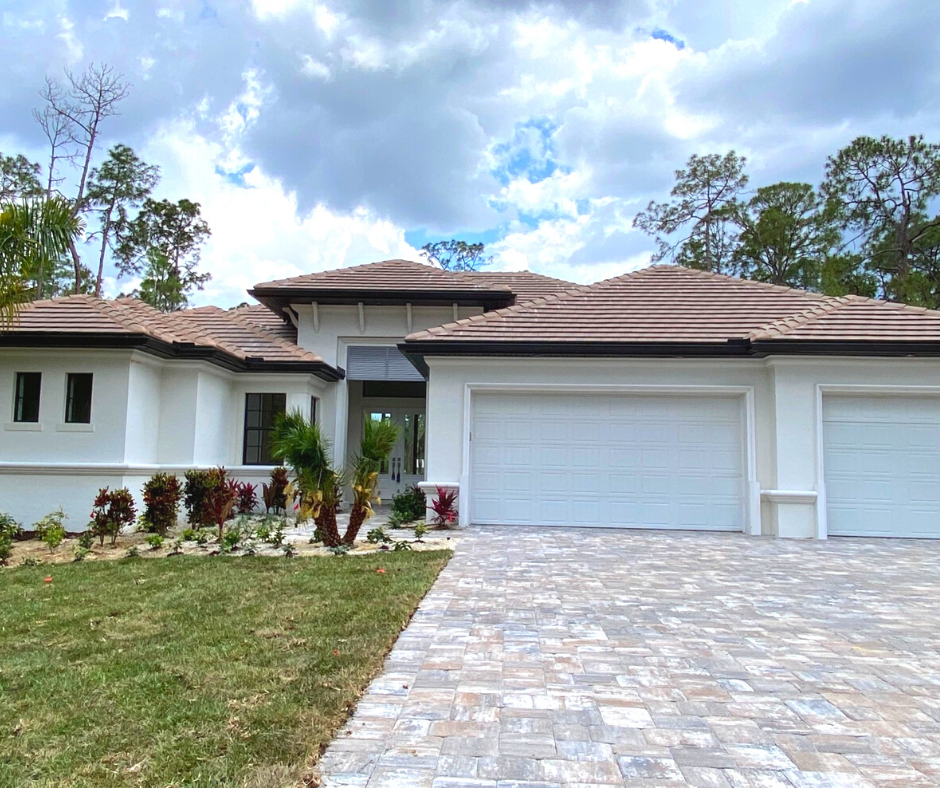 Naples, Florida, June 28th, 2022—With a growing presence in Collier County, Southwest Florida home builder, Frey & Son Homes, announces that three new inventory homes are available for immediate purchase. The home builder primarily builds homes across Lee and Collier counties, with many of its homes located in Cape Coral and on Marco Island. The need for more homes in Naples has prompted the Frey team to take action and offer exquisite homes in Golden Gate Estates.
Located at 5042 Cherry Wood Drive in Naples, this four-bedroom, three-bathroom Marsala model boasts 2,868 sq. ft. of air-conditioned living space. With its convenient in town location of Logan Woods, this home also features a large 2.34-acre lot and stunning views of the property throughout the home, made possible by spectacular 10' intersecting sliders. This home also features a three-car garage, a custom pool and spa, oversized kitchen island, walk-in pantry and many more desirable elements. The next home is located at 4199 11th Avenue SW and features four bedrooms, three bathrooms and 2,784 sq. ft. of air-conditioned living area. This St. Lucia model is located west of Collier Boulevard/951 and resides on a 2.5-acre wooded lot for ample privacy. It, too, showcases 10' intersecting sliders to provide unmatched views of the natural beauty that surrounds it.
The third home is located at 543 27th Street SW, and is a St. Lucia model, showcasing three bedrooms, three bathrooms and 2,468 sq. ft. of air-conditioned living space. It resides east of Collier Boulevard/951 on a 2.5-acre wooded lot. Beautiful 10' intersecting sliders offer dazzling views of the property from multiple angles. A spacious lanai provides the perfect space to relax and enjoy the sunshine, while a central island acts as a focal point in the home amongst a spacious kitchen, featuring gorgeous counter tops and stainless-steel appliances.
For the past 50 years, Frey & Son Homes (www.freyandson.com) has been showcasing brilliantly designed homes that perfectly encapsulate the Southwest Florida lifestyle. Through unmatched customer service, the latest building and design techniques and an expertise that's top-notch in the industry, Frey & Son homes is well-versed in what the Southwest Florida buyer is looking for in their part-time or full-time residence.
Barry Frey, President of Frey & Son Homes, speaks about these new Collier inventory homes and the builder's growing presence in the area.
"Naples is a popular destination and with this popularity, new homes are needed to accommodate this growth. We're excited to showcase these fine homes, offering the Frey & Son touch to Naples and beyond. We're looking forward to building more homes in this beautiful area, helping more homeowners live the ultimate Florida lifestyle," he says.
About Frey & Son Homes
Founded in 1972 by Doris and Bill Frey, Sanibel Homes was launched on Sanibel Island. Joined by son Barry in 1985, Frey & Son Homes was born, and since then, the team has been building homes for clients all over Southwest Florida, from Marco Island to Cape Coral. Earning rankings, such as America's Best Builder and being honored as one of the nation's 50 leading luxury builders, Frey & Son Homes continues to impress clients, making them a staple in the Southwest Florida home building industry.
To learn more about Frey & Son Homes, please call (239) 495-8200, email info@freyandson.com or visit www.freyandson.com.