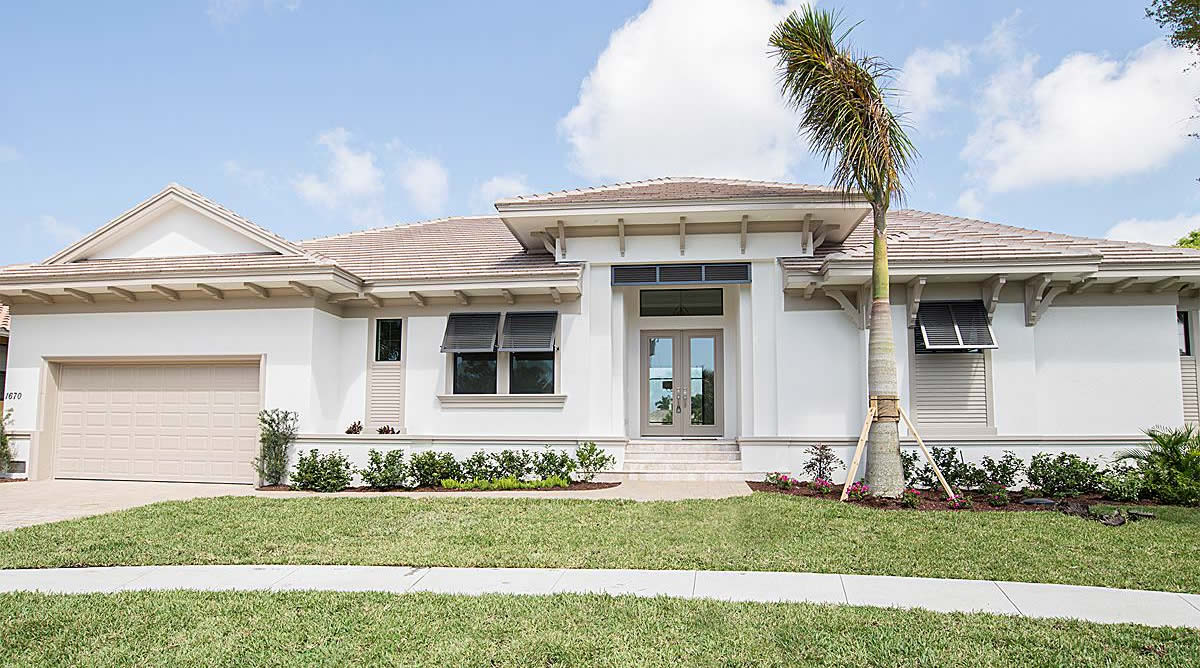 Marco Island, Florida, February 23rd, 2017—Frey & Son Homes announces the commencement of its newest project on Marco Island, which began earlier this year. This project joins the ever-growing list of  homes built by Frey & Son, which exceeds 4500 homes in Southwest Florida. Frey & Son Homes got its start in 1972 and specializes in quality assurance, refined craftsmanship and building homes to last generations.
Located at 783 Orchid Court in Marco Island, the two-story "Begonia" model home features wide water views and custom finishes throughout. Other notable features include an elevator, four-car garage and a fire pit. The custom pool will feature a swim current, and the outdoor patio will feature a kitchen/bar area as well. A custom bar will be featured in the upstairs level of the home, along with a spacious master suite, custom flooring and exquisite views of the beautiful Marco Island white sand beaches.
Frey & Son Homes (www.freyandson.com) adds this home to its long list of beautiful homes in some of the most prestigious communities in Cape Coral and Marco Island. Backed by 35 years of luxury home building experience, the Frey & Son approach consists of detailed planning and project management, attention to detail and expert resources from nationally recognized trade partners. The Frey & Son team takes the vision of the homeowner and makes it a reality.
Barry Frey, President of Frey & Son Homes reflects on the Orchid Court project and the planning that ensues when building a new home.
"There's so much that happens before you start a project and once you get started, seeing all of the pieces coming together and falling into place is indescribable. For as long as we've been building custom homes for clients, the feeling never gets old. We just want our clients to be happy with a home that will last a lifetime," he says.
About Frey & Son Homes
Founded in 1972 by Doris and Bill Frey, Sanibel Homes was launched on Sanibel Island. Joined by son Barry in 1985, Frey & Son Homes was born, and since then, the team has been building homes for clients all over Southwest Florida, from Marco Island to Cape Coral. Earning rankings, such as America's Best Builder and being honored as one of the nation's 50 leading luxury builders, Frey & Son Homes continues to impress clients, making them a staple in the Southwest Florida home building industry.
To learn more about Frey & Son Homes, please call (239) 495-8200, email info@freyandson.com or visit www.freyandson.com.