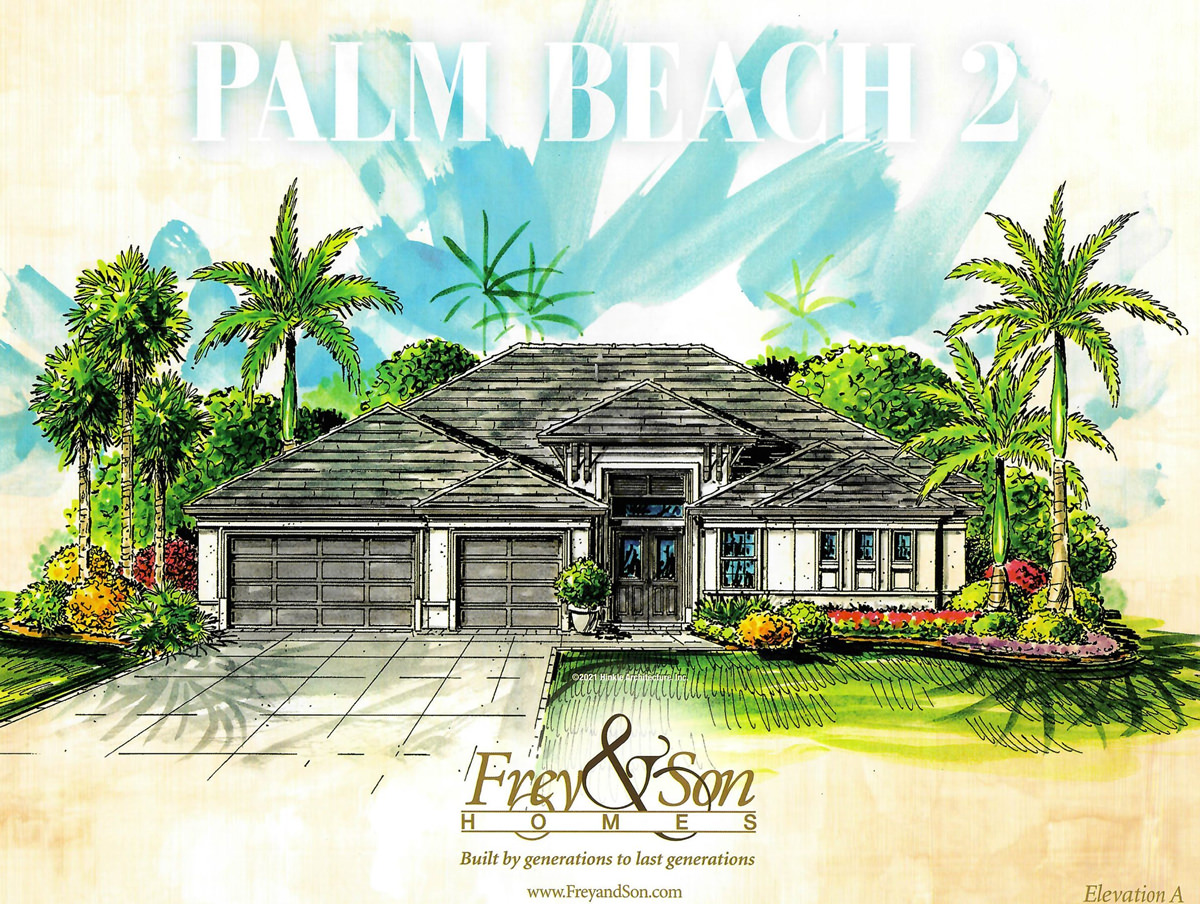 Whether you're looking to retire in style and live a leisurely lifestyle, or you're growing your family and need more space, the Palm Beach 2 model home from Frey & Son Homes is a stunning example of luxury living in Southwest Florida. Its unique features and impeccable design make this home a top choice for discerning homebuyers.
Although there are countless reasons to fall in love with this unique home, read on to learn about five of our favorites.
1. Spacious and Open Floor Plan
One of the standout features of the Palm Beach 2 home is its spacious and open floor plan. With three bedrooms, three bathrooms, and ample shared living space, this home spans over 2,600 square feet for comfortable living. The open-concept design seamlessly integrates the main living areas, including the great room, dining room, and kitchen, creating a sense of flow and connectivity.
2. Roomy 764 Square Foot Garage
The Palm Beach 2 model home from Frey & Son Homes boasts a roomy 764 square-foot garage, giving you plenty of room to park multiple cars. You could even transform the space into your dream home workshop. Alternatively, you can use the garage for a wide variety of storage needs, including a golf cart, bikes, landscaping and gardening tools, and other outdoor gear.
Connected to the garage is a sleek utility room with an optional pet wash station and washer and dryer hookups. This room makes it easy to contain any messes from your outdoor adventures when entering through the garage.
3. Modern Kitchen Made for Entertaining
The Palm Beach 2 features a stylish and modern kitchen design that is sure to impress. This gourmet kitchen is made for entertaining, featuring high-end appliances, plenty of cabinet space, a large central island, and a huge walk-in pantry. The large, open space flows seamlessly into the adjacent dining room, making it easy to entertain guests or enjoy quality time with family and friends without any barriers.
4. Versatile Outdoor Living Space
The Palm Beach 2 also offers a versatile outdoor living space that features a:
Large covered lanai
Luxurious outdoor kitchen
Optional pool
The covered lanai provides a shaded area for outdoor relaxation and dining, while the outdoor kitchen is perfect for grilling and entertaining. The optional pool adds a touch of luxury and provides a refreshing oasis for relaxation and recreation, making the outdoor living space perfect for enjoying the Florida sunshine and tropical lifestyle.
5. Luxurious and Expansive Master Suite
The cherry on top of this sundae is the large, luxurious master suite. The master bedroom offers a retreat-like ambiance with ample space for relaxing. Additionally, there are two large walk-in closets. The master bathroom boasts modern fixtures, two vanities, and the shower or bath of your choice.
Start Designing Your Dream Home Today
The best part of the Palm Beach 2 model home from Frey & Son Homes is the ability to customize every inch to meet your needs. From flooring and countertops to lighting and hardware finishes, we will work with you to ensure you love every detail of your new home. Stop by our Cape Coral or Naples model center to tour the Palm Beach 2 and start designing your dream home today.