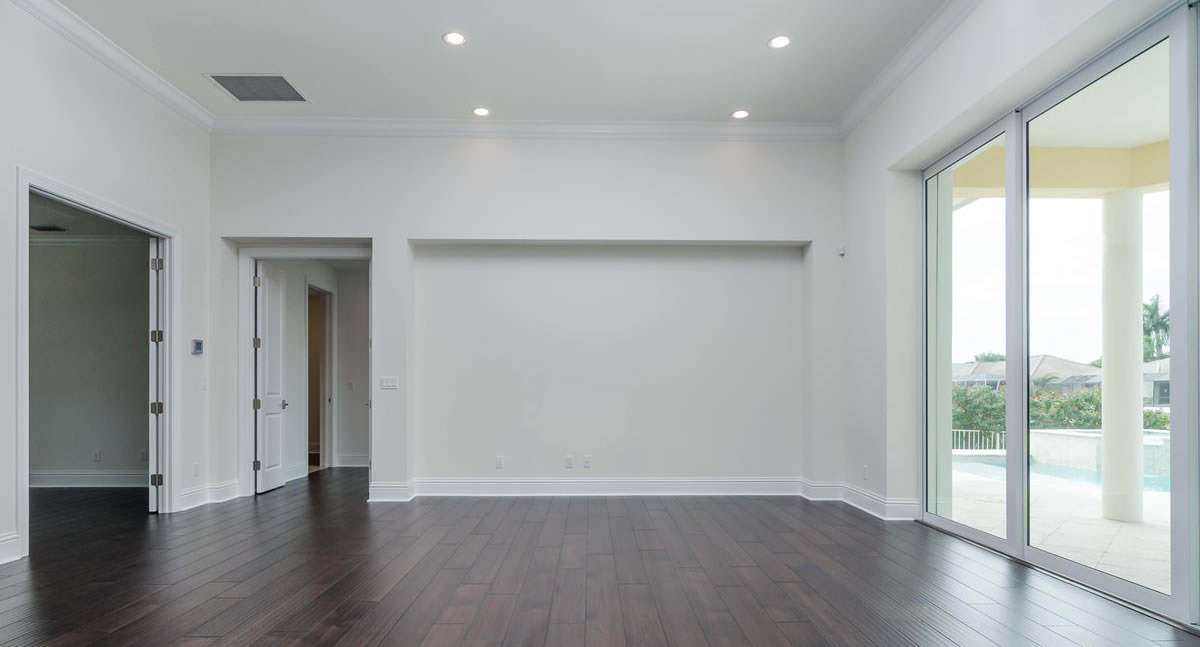 Building a new home or renovating an existing home comes with many decisions. From floor to ceiling, choices need to be made, and taking the time and doing the research is important, since these choices are going to be a part of your life for many years. When it comes to home flooring, there are countless options on the market, and choosing the right fit for your home and budget is crucial to the overall project. Let's talk about some of your home flooring options for your new home.
Home Flooring Option #1: Tile
Perhaps one of the most popular choices in Southwest Florida is the tile option. Easy to clean and maintain and with a variety of different styles, colors and textures, tile seems to be the go-to option for many Florida homes. Tile can be composed of different materials, including porcelain and ceramic, and varies greatly in cost, depending on square footage needed, style and size of the tile. Porcelain is a more durable choice, since it tends to be harder than ceramic and offers more design flexibility. Both porcelain and ceramic are made primarily of clay; however, porcelain is a purer and more refined choice.
A great option, when it comes to porcelain tile, is a product called Laminam. Professionals in the industry regard this product as a go-to choice for floors with minimal grout joints without applying a mud-set application. Laminam not only saves installation time, but it also assists with construction, due to its slabs not needing to be recessed, allowing door casing and trim to be installed normally. Laminam has a variety of options to give the look of a marble floor, but with the ease and care of a porcelain floor option.
Home Flooring Option #2: Natural Stone
Stone flooring is not only beautiful, but adds a distinct style to a space. Natural stone tiles can be composed of the following:
Marble
Granite
Limestone
Travertine
Slate
Onyx
Although tile has been a leader in home flooring for years, natural stone is quickly becoming more popular with homeowners in Southwest Florida. For many years, stone tiles have been limited to only kitchens and hallways, but in recent years, they have made their way into living areas and bathrooms as well. The warm, earthy tones of the stone tiles also add a homey feel to the space, which is exactly what many homeowners desire when choosing their home flooring. One draw-back to natural stone is the natural variations in the stone that can change by the lot.  One lot may have very few variations, while the other has a great deal of variations.  Also, it's important to note that the material installed may vary some from the original sample selection in its color shade and the amount of veining in the stone.
There are two ways to install stone tiles, mud-set and thinset. A mud-set installation is required on many marbles in order to get a tight grout joint and to have minimal lippage.  The mud-set installation is considerably more expensive than the thinset application, but assures a much higher quality installation. Natural materials require rebuffing and resealing over time to get the dirt out of the stone.  It's important to note that all flooring selections will require occasional grout cleaning.
Home Flooring Option #3: Hardwoods
There's nothing quite like a traditional hardwood floor. The refined style and rustic look is a surefire way to wow your guests. Hardwood flooring is more resistant to spills causing staining; however, can get scratched, dented and scuffed. It's important to evaluate your needs before you choose hardwood floors, especially if you have young children or pets in the home. The plus side is that more often than not, hardwood floors can be sanded, smoothed and refinished to fix any imperfections.
The first choice you will need to make when considering hardwood flooring is whether you'd like solid or engineered hardwood. Solid hardwood is composed of solid pieces of wood from fine domestic or exotic hardwoods and is best for rooms with controlled temperature and humidity. Engineered hardwood is a more versatile option and is able to be installed virtually anywhere in the home. The prefinished or engineered wood floors tend to be much more durable and scratch resistant than those finished on the job site.  Also, the prefinished wood withstands moisture much better than the natural wood floors.  In either case, wood floors in rooms that tend to get wet, such as kitchens, bathrooms and laundry rooms should be avoided.
Home Flooring Option #4: Carpet
Carpet is utilized in many areas of the home, including bedrooms and living areas and is a very flexible home flooring option. Providing an extreme level of comfort in a room, carpet has its advantages and disadvantages. Carpet flooring is known for its added insulation to a room and also for safety, especially for homes with children or older adults. However, maintenance can be a struggle as carpet, depending on the color, can get very dirty and trap the dirt within its fibers, will show wear over time and is a less durable material than wood or tile. Color and style choices are abundant, so it's important to find the right fit for your lifestyle.
Home Flooring Trends
You can see that there are many different options when it comes to home flooring, and it's important to evaluate your needs to determine the best fit for your home and your budget. Take your time with this decision and make sure to do your research on the various options. There's something for everyone out there…you just need to find what works for you.
The experts at Frey & Son Homes can't wait to get started on your new home. Contact them by calling (239) 495-8200 or visiting www.freyandson.com.