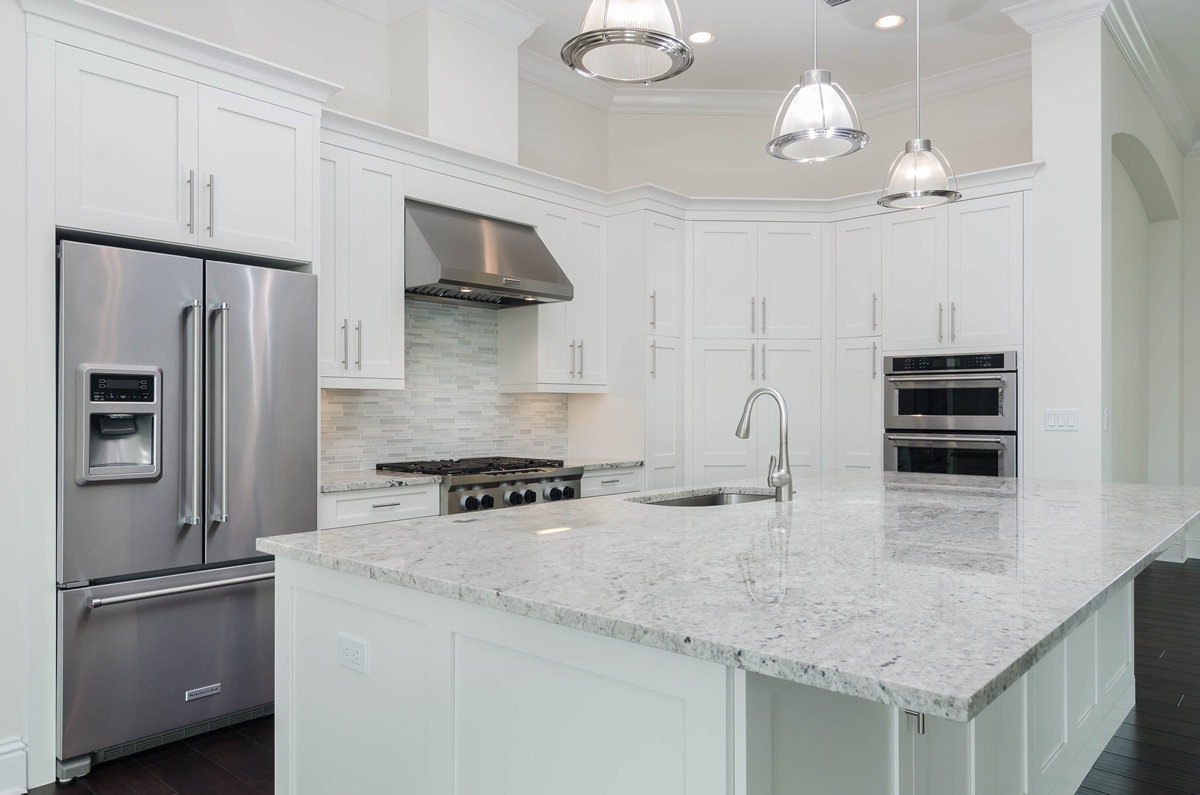 It's often said that the kitchen is the heart of the home. From entertaining guests to a quiet night in, you'll most likely be spending quite some time in the kitchen, so why not design it exactly how you want? Too many times clients are less than thrilled about lack of space or unsatisfactory flow of the kitchen, so that's why it's important to target some aspects that you need to have in your new home's kitchen. Let's talk about some of the top kitchen must-haves when building a new home.
Optimized Functionality
Let's face it…convenience is key, so it's no surprise that optimized functionality is number one on our list. Cabinet doors and drawers have gotten a makeover in recent years, adding features like hydraulics, which make operation easier, and mixing centers with arms that swivel out from base cabinets are also popular options. With the touch of a button (or even your finger), easily close doors and drawers without the worry of them slamming and getting damaged. Special touches like this help to make life just a little bit easier in a busy, chaotic week.
Custom Storage
A common complaint of many homeowners is lack of storage in the home. This goes for many areas of the home, not just the kitchen, but the kitchen is perhaps one of the most essential places to have a custom pantry system in place.  Theses pantries have gotten larger and larger with some even having granite tops or islands within the pantry.  Many have roll-out shelves, wire baskets and other custom touches designed by a closet organizer, similar to the touches found in a master bedroom closet.   Avoid misplacing food items or worse, having food expire, by incorporating a custom pantry in your new kitchen. You can add all the bells and whistles, including rotating storage, wine racks, drawers and shelving to help make finding your items a breeze.
Automation Assistance
With everything going on in life, any little upgrade can make a big difference. More and more homeowners are incorporating automation, not only in the kitchen, but in the entire home. Sensor-activated lights and voice commands make cooking faster and easier, and hands-free faucets have become big winners in the cooking game, not only for convenience, but also for safely avoiding contaminating surfaces with food.
Large Islands & Farmhouse Sinks
Kitchen prep space can be limited, but adding in an oversized island makes preparing dinner easy, and farmhouse sinks help to make the clean-up process simple. With larger areas devoted to these key tasks, it allows for better flow in the kitchen and ultimately less time spent cleaning up, so you can go enjoy your guests or spend time with your family, instead of dealing with a clean-up nightmare.
Built-In Bars
These days, people want to entertain. Built-in bar areas are perfect for doing just that. Built-in bar areas not only provide functionality, but also add a hint of modern style to your new home's kitchen, and built-in shelving for glasses, cocktail goodies and more make entertaining guests simple and worry-free.  Some include icemakers and or under-counter wine cooling units as well.
Top Kitchen Trends
You're building your custom home and hope to enjoy it for years to come. Why not make your life easier when it comes to your kitchen's design? Remember these trends:
Increase functionality by adding in easy-close cabinets and drawers.
Maximize your storage with a custom pantry system.
Add in automation to make cooking a breeze.
Utilize the space with oversized islands and large farm sinks to help make prep and clean up quick and painless.
Entertain guests with ease, while adding modern style with a built-in bar.
We can't wait to help you create your custom home. Call the experts at Frey & Son Homes at (239) 495-8200 or visit www.freyandson.com to get started on your project.