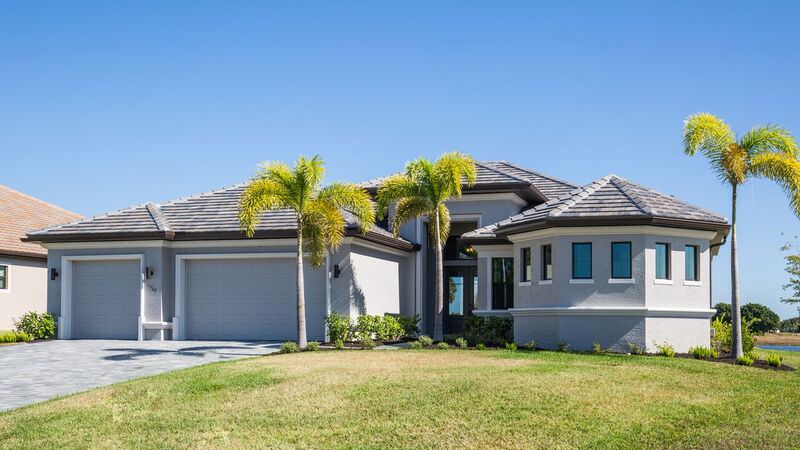 Cape Coral, Florida, July 28th,  2022—Home builder, Frey & Son Homes, announces that construction is underway on a new inventory home in Cape Coral. The home builder is celebrating its 50th anniversary this year, and has built over 5,000 homes across Southwest Florida. Designing contemporary spaces that utilize only the best materials and building techniques, Frey & Son Homes stands out from the rest.
Located at 4705 SW 11th Avenue in Cape Coral, this Marsala model features three bedrooms, three bathrooms and 2,642 sq. ft. of air-conditioned living space. This Gulf access home showcases intersecting canal views, making for breathtaking views throughout the home. This Southwest location allows boating access to the river without going through the Chiquita Lock, allowing quick access to the Gulf. An open span lanai with no columns accentuates this view, while a designer pool and spa allow for maximum enjoyment of the serene surroundings and balmy breezes. Exquisite wood cabinetry, granite countertops, stainless steel appliances and many more high-end features can be found in this home. You'll also find low-e thermally insulated windows and sliders for maximum energy efficiency, as well as protection from our Southwest Florida elements. The projected completion date for this home is Fall of 2022.
Frey & Son Homes (www.freyandson.com) has unveiled many inventory homes across Cape Coral, Marco Island and most recently Collier County this year. The builder prioritizes quality above all else, keen attention to detail and timeless design elements to meet the demands of our Southwest Florida home buyers.
Barry Frey, President of Frey & Son Homes, speaks about the latest inventory home to hit the market in the Cape.
"Cape Coral continues to be one of the most popular waterfront communities in Southwest Florida. This means that we need to be vigilant in showcasing quality homes that meet buyer expectations. We're looking forward to revealing even more homes in the area before the end of the year that will surely appeal to the Cape Coral buyer," he explains.
About Frey & Son Homes
Founded in 1972 by Doris and Bill Frey, Sanibel Homes was launched on Sanibel Island. Joined by son Barry in 1985, Frey & Son Homes was born, and since then, the team has been building homes for clients all over Southwest Florida, from Marco Island to Cape Coral. Earning rankings, such as America's Best Builder and being honored as one of the nation's 50 leading luxury builders, Frey & Son Homes continues to impress clients, making them a staple in the Southwest Florida home building industry.
To learn more about Frey & Son Homes, please call (239) 495-8200, email info@freyandson.com or visit www.freyandson.com.