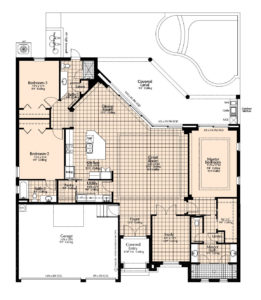 It goes without saying that whether you're building your first home or your tenth home, what it looks like and how it functions is of the utmost importance. You have a vision of your home and want to make that into a reality from the floors to the ceilings and everything in between, and it's important to go through the home building journey the right way. There may be some bumps along the road; however, being prepared and educated on the home building process can help you smoothly sail into your brand new custom home.
Let's discuss some common home building mistakes and how to fix them.
Home Building Mistake #1: Inadequate Planning
Although you don't want to think about it, you may have to come to terms with the fact that construction delays can sometimes be unavoidable. Factors that can contribute to delays include:
The weather
Change orders after construction starts
Labor delays
Material shortages
Permitting
Delays in finalizing the plans
It's important to note that when your contractor gives you a rough approximation of when your custom home will be completed, know that it is approximate and things may change.
THE FIX: Now that you know this date is approximate, don't find yourself moved out of your old house with no place to live. Be in good communication with your contractor, so you know how your project is coming along. It is best not to zero in on a completion date until the drywall has been installed. At that point, the contractor can give you a realistic completion schedule. Also, it is good to have a couple of weeks of flexibility added to this. Building departments can be tricky to deal with occasionally and these times often reveal themselves at the end of the job when the contractor is attempting to get the Certificate of Occupancy.
Home Building Mistake #2: Losing Control of your Budget
Often times, homeowners enter into a project with some sort of budget, which of course varies in each unique situation. Once plans are already drawn up, you may have a change of heart about those built-in cabinets in the den, calling your contractor immediately to get them added back into the plans. However, in doing this, you're adding on significant dollars onto the already existing bill, and for couples who are budget-conscious, this may mean having to let go of another feature you had planned.
THE FIX: Know that you may change your mind about what's important to you in your home and know that it may affect the budget. The trick here is to keep an eye on that budget. Don't let last-minute add-ons get out of control. It is wise to budget a 3-5% increase in the contract price to allow for additional features and selections not anticipated at the outset.
Home Building Mistake #3: Choosing the Wrong Fit
We've saved the best for last…your home builder. It may be tempting to choose the most affordable contractor on the list, but you may end up getting just what you paid for, resulting in complete misery during your home building experience. There's nothing worse than working with a contractor who doesn't get what you want, or worse, cuts corners and does things improperly. This is especially important here in our Southwest Florida sub-tropical climate.
THE FIX: Do your research! If you're leaning toward a particular home builder, take a look at their work, see their quality and ask around. Are clients happy or disappointed? And what is their reasoning? Taking this extra step can mean the difference between getting what you want and complete disappointment that you're going to have to live with for years to come.
Your Custom Home
You may only get one chance to build your custom home from the ground up, so don't find yourself in these common home building pitfalls. All of it is avoidable if you do a bit of research and keep these key things in mind. Get the home you want and the home that you deserve.
For help building your custom home, contact the experts at Frey & Son Homes at (239) 495-8200 or visit www.freyandson.com.