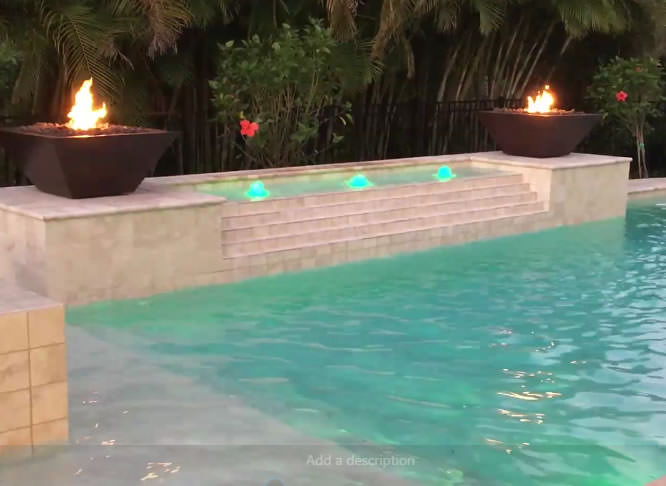 It's a new year and that means there are new trends in the industry for waterfront living! The start of a new year is always exciting, but what makes this year different are the new and unique home building ideas that are emerging in our area. Energy efficiency has proven to be an integral part of the home building process and new design elements have erupted onto the scene. Let's talk about our favorites for 2017.
Open Concept Kitchens
Gone are the days of segmented living. Walls are out and open floorplans are in! Kitchens, especially have undergone a massive makeover in the past few years. The top choice for many homeowners is to knock down the walls, so the most popular area of the home can feel more like a part of the space, instead of a separate part of the house. Homeowners are also ditching hanging soffits and opting for more open ceilings. Upgraded finishes, cabinetry and countertops, especially oversized granite islands also top the list of design choices, and storage space is a must for this area of the home.
Custom Closets & Storage
Speaking of storage, the kitchen isn't the only area of the home getting a makeover. Move over clutter, we've got a solution for you! Custom closets are extremely popular now, due to the pure fact that they make life easier and look great. Utilize custom closets in the home, especially in these areas:
Bedrooms
Kitchen pantry
Office
Living room
Garage
Large pantries directly off the kitchen are in.  These often have built-in granite tops, baskets for vegetables, slots for pots and pans and significant amounts of space to store large volumes of groceries for weekend trips to the Warehouse club. Keeping your things organized helps save time getting ready and prevents your things from becoming lost.  Many homeowners are choosing to upgrade these closets with premium finishes and helpful additions, such as drawers, hanging racks, rotating shelves and more.
Pool Features
If you've ever visited Cape Coral, Marco Island or any other beautiful town in Florida, we're willing to bet that you've seen a pool in the backyards of many of the homes. A pool is a wonderful feature, especially in our subtropical climate, and many homeowners are choosing to jazz up their backyards with some other unique and useful items, such as large walk-up outdoor kitchens with grilles, icemakers, refrigerators and granite tops.  These items need to be covered by a roof and on the sides to prevent blowing rain.  Stucco or stacked stone is a popular choice as these materials are impervious to the moist climate, and unpolished travertine stone is extremely popular for decks as it has a very natural look, it is not slippery and it doesn't crack.  If you're lucky enough to be able to take a dip in the pool all year round, why not make your backyard an outdoor oasis?
Home Position
Another aspect of home building that many Cape Coral and Marco Island residents are taking into consideration is the positioning of the home on the lot. We can't deny the fact that we live in the Sunshine State, and being mindful of where your home is placed is key to enjoying your home for years to come. Homeowners love to have the rear of the home facing either South or West.  Since we live in the Northern Hemisphere the sun tilts to the South in the winter months.  To maximize sun on the pool, many residents prefer the Southern or Western rear exposures. Large glass windows typically are found on the back of the home and when the home is Western-facing, energy usage can skyrocket. This is why many homes have lanais on the back of the home to help reduce some of this energy usage and help diffuse some of the sunlight. Opting for low E coatings on your windows reflects UV light while allowing visible light to stream in the house and hurricane glass has an inner layer that also reflects a significant amount of UV light.
Waterfront Living
Waterfront living is becoming increasingly sought after nowadays, especially in Marco Island and Cape Coral. Many homeowners are seeking a home right on the canal for easy access to the water and fishing. Being able to dock your boat right outside your home is a huge selling factor in Southwest Florida, and many residents are customizing their docks to fit their specific boating requirements to include things like heavy-duty lifts, covered chickee areas, lifts for jet skis and snook lights. Not only does waterfront living offer exquisite views, but the convenience of being able to cruise the Gulf of Mexico steps from your home is unmatched.
Home Building Trends
Living in Southwest Florida definitely has its perks and being able to enjoy the weather all year round has home buyers seriously thinking of more and more ways to enjoy paradise. Remember, keep these key things in mind when building your Cape Coral or Marco Island home:
Utilize open concept kitchens
Upgrade to custom closets & storage
Add in pool features, such as fountains or fire pits
Be mindful of where your home sits on the lot
Take advantage of waterfront living
At Frey & Son Homes, we can't wait to get started on the home of your dreams. Visit our model home showcases in Cape Coral and Marco Island, call (239) 495-8200 or visit www.freyandson.com to get started today.